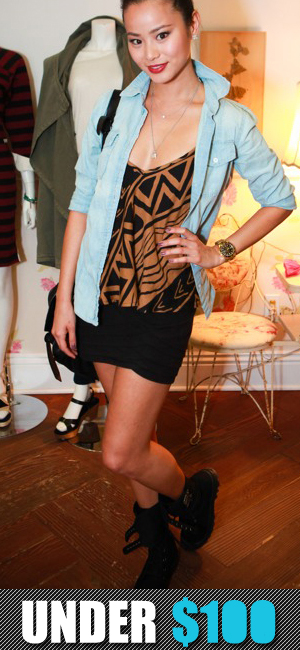 Jamie Chung shows off at Satine's Party for Palladium Summer Boots in a rather extrinsic outfit. Her look is comprised of a few designers, giving us a quick run down of the trending styles for this summer.
Why We're Obsessed: Jamie Chung just radiates coolness with this outfit. It is the perfect street style look for this summer. Not too dressy, not too casual. It's just right! We absolutely adore the aboriginal print on her blouse, which makes her look even more exotic than she already is. And the light blue chambray shirt and black combat boots add a touch of color and boyish charm, letting the world know she can be pretty and kick-ass all at the same time. Not to mention it is seriously easy to style your hair and makeup with  this outfit.
I love how she looks both nonchalant and ready to party with her top-knotted hair and popping pink lips!
How to Get This Look for Under $100: Luckily, both tribal and denim never really go out of style. It just depends on the season as to whether or not they are a prominent style. Fortunately, they have the spotlight this summer, making Jamie's look a totally easy find!
Total Cost to Our Look: $98.99