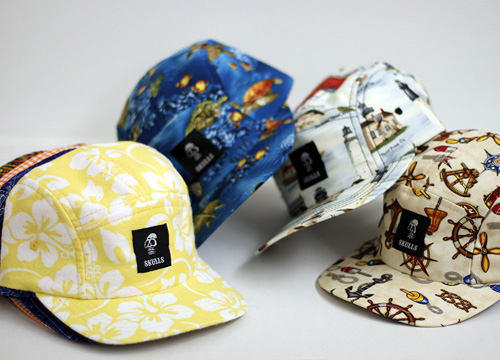 Psychedelic, eccentric, daring, these are only a few words that we could use to describe the line of hats recently released by SKULLS, a new store specializing in street wear in the fashion heavy city of Barcelona. Ivan Jimnez recently opened Skulls to rave reviews and this new line of headwear is only adding to the hype. While these bold caps may not be for everyone, the bright colors and peculiar prints could serve as the perfect accessory for your summer wardrobe.
Regardless of your taste there is something undeniably refreshing about the eccentricity of these hats. The originality you see in these pieces is something that Jimnez has successfully incorporated into the whole shop. He's quoted as saying: "We try to be original, with original brands, products… without loosing the fashion touch." When talking about his goals he also said he wants to "be a benchmark in Spain, and launch Skulls brand in 2011."
These hats are the first step to accomplishing his lofty goal. The Skulls caps have now reached beyond Skulls Barcelona, and are available at Caliroots, the Reed Space, and other retailers.
Tags:
hats
,
SKULL Barcelona