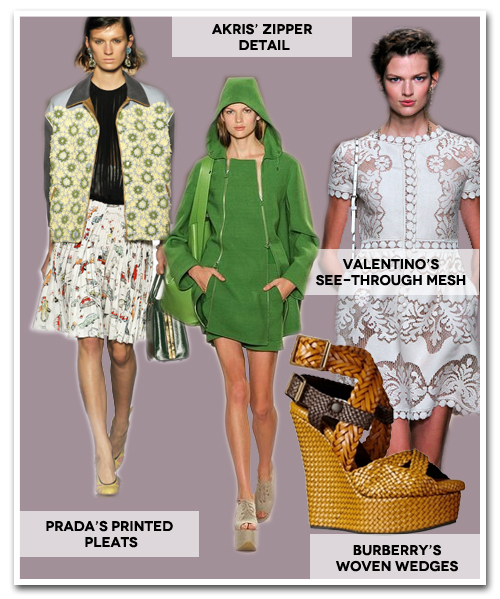 Clockwise top left to bottom right: Prada Spring 2012 (Monica Feudi / Feudiguaineri.com), Akris Spring 2012 ( Alessandro Viero / GoRunway.com), Valentino Spring 2012, Burberry Prorsum
Knock offs are a less gentle name for how most of the mortal fashion world conducts business—runway shows dictate next year's colors, silhouettes and patterns, and major fast fashion stores like H&M, Zara and Aldo copy what they choose.
Though it sucks to see blatant counterfeits (ahem, Forever21, ahem ahem Canal Street), we've all bought and worn distilled versions of runway looks from large chain clothing stores.
So since everyone's already doing it, we might as well put in our requests from the Spring/Summer 2012 shows, no?

Zippers Everywhere: Akris
Akris' automobile inspired silhouettes were awesome this spring, and the zippers that replaced architectural seams are something I'd definitely wait in line for.

Printed Pleats: Prada
Pleats have been done (and done and done), but they're not over yet. Prada's spring collection amped them up a bit with bright geometric prints in the pleats.

Spiral Woven Wedges: Burberry
These remind me of a giant sculpture I love in New York that you can see for blocks and blocks away–it looks kind of like a big black hole opened up mid-air. I would definitely wear that on my feet, especially if it didn't cost $5,000 to do so.

Sneaky See Through: Valentino
Mesh can be lovely, and it can also be really really awful. Valentino definitely did it lovely with enlarged lace motifs in blacks and whites.I can only hope that the idea isn't screwed up upon redesign, but you never know when bad fake chantilly will rear its ugly head.