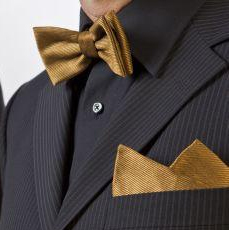 We thought Victoria's Secret dominated the over-the-top accessories market with their $2.5 million dollar diamond encrusted bra, but now Swiss scientists just one-upped the lingerie retailer with their discovery of 24-carat gold fabric.
The result?  24-carat gold bowties.
According to Science Daily, Swiss Scientists from EMPA, in a decade long project, have finally discovered a way to coat polyester with a nanometer-thin layer of the precious metal. In simple non-science talk, they created a gold fabric that can be used as any other material.
To show off the agency's feat, they released a limited number of gold ties that were tailored by Hofmann und Co AG—Zürich's  tie manufactory—just in time for Christmas.
Each tie, retailing at $8,450, will have 8 grams of 24-carat gold. If sales are successful, the agency wants to expand the line into pocket squares, bow ties, scarves and bags.
This new discovery could definitely change the playing field for fashion.