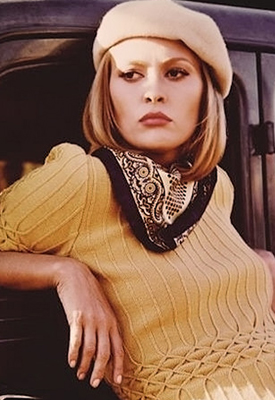 Faye Dunaway  achieved style icon status as the gun-toting Bonnie Parker in the 1967 movie Bonnie and Clyde. Alongside Warren Beatty's Clyde Barrow, she was a suave, sexy and seriously fashionable force to reckon with.
And even though the film takes place during the 1930s, Dunaway's playful-yet-polished look continues to be coveted.
Want to capture Faye's femme fatale fashion? Read on!
The Beauty Breakdown
The makeup here is pretty simple. Use your regular foundation and set with a translucent powder.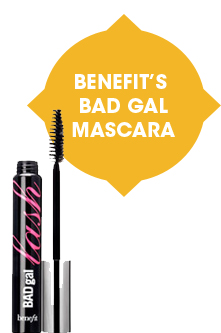 Add a light line to your upper lid (my new favorite is eye pencil is by NARS, in Black Moon), curl your lashes, and apply two generous coats of mascara.
I suggest getting into the Bonnie Parker spirit with Benefit's Bad Gal.
Top it off with a matte, light-red stain for you lips.
Keep your nails nude, or apply two coats of Essie's Like Linen.
If you have hair similar to Ms. Dunaway's, use a flat iron (I live for the Chi) to get her smooth, straight style.
Make sure to start with a spray, such as this one by Marc Anthony. It not only protects your hair from heat damage, but also seals in shine and helps set the shape.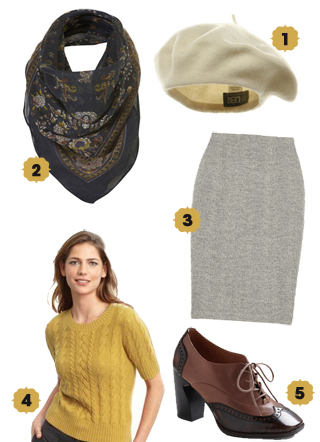 As for the outfit,  a kick-ass beret is a must  (1).
As is a printed scarf (2), tied neatly around your neck.
A short-sleeved, cable-knit sweater (4) and  textured pencil skirt (3) are all you really need in terms of apparel.
Finish it off with a fun pair of oxford pumps (5), and you're ready to steal the spotlight.
---

Susan is a freelance writer, born and raised in NYC and currently based in Brooklyn. She's the senior beauty editor for Meets Obsession, and also writes for online publications such as Mamasarollingstone.com, TueNight.com.
and The Huffington Post. Susan had a serious candle hoarding issue that she has no plans to address. She's currently obsessed with Marc Jacobs' new beauty line, her black Zara moto jacket, and Aaron Paul.
All author posts