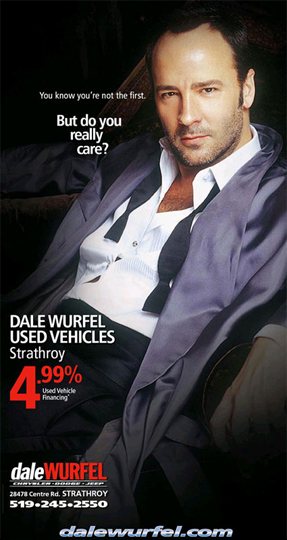 Tom Ford just got downgraded from filmmaker and fashion designer to the new spokesperson for Dale Wurfel Used Vehicles according to a recent ad that has been making its way around the internet.
The provocative ad, which is almost certain to turn into a lawsuit, features a sultry Ford, who is known for being protective over his image and brand, posed with undone bowtie and shirt, reclined, bedroom eyes and a tagline that reads, "You know you're not the first. But do you really care?"
Gasp! Oh Ford! How ungentlemanly of you.
No word on confirmation that Dale Wurfel acquired permission to use Tom Ford's image or likeness in the ad.
We're guessing  not.
Tags:
Dale Wurfel
,
Dale Wurfel Used Vehicles
,
Tom Ford