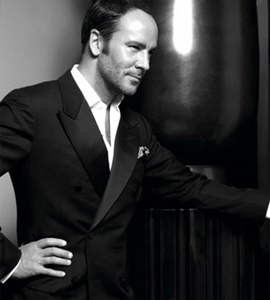 The Oprah Winfery Network is offering viewers a highly personal look inside the inner workings of one of fashions greatest minds in the documentary "Visionaries: Tom Ford".
Slated to premiere on June 24, cameras chronicle the designer-turned-director throughout fast paced shows, the opening of his flagship, and his own personal struggles as the 'former king of fashion'.
Ford single-handedly brought the fashion world to its knees when he simultaneously became the creative director of major fashion houses Gucci and Yves Saint Laurent. He ran both houses seamlessly, creating revolutionary collections, and running some of the most provocative ads the industry had ever seen all the while never having a single hair out of place.
This Stepford-esque image is shattered in the hour long documentary where Ford opens up about his struggles with depression, mid-life crisis, and personal as well as professional reinvention. Ford's conduit for the major changes he faced when he finally split with the world of fashion was his debut feature  film "A Single Man", starring Colin Firth.
He calls the film "very much my midlife crisis on screen".
Ford also lets audiences in on his true feelings about his work as well his passion for the art of fashion. "I have, sometimes, mixed feelings about what we do because we convince people they're not perfect enough. We promote materialism, which is ultimately not the thing that brings you happiness in the world."
In regards to his own happiness, Ford says "I could absolutely die tomorrow — I would not care. I feel like I've lived, I feel like I've had a great life. There are lots of things I'd like to do, I don't want to die, but I'm comfortable enough with having lived and having experiences that death does not freak me out at all."
The "Visionaries: Tom Ford" documentary will air on  the Oprah Winfrey Network on June 24 at 10 pm EST.
---

Saron is a writer and student born in Ethiopia and raised in Washington, DC. She is incapable of keeping a phone for longer than a few months, exclusively wears Miss. Dior Cherie, and her guilty pleasures include any novel written by V.C. Andrews (don't judge), Essie's "Little Brown Dress", and Stoli. She is currently obsessed with the poetry of Edmund Wilson and The Arctic Monkey's latest album "AM".
All author posts