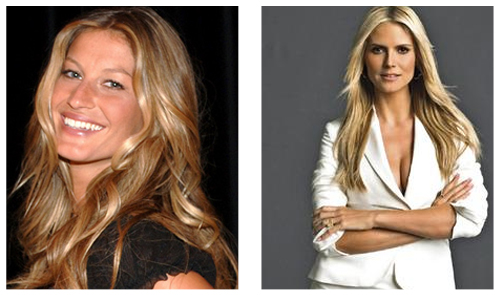 In the world of supermodels, there are only a few who earn top dollar.
Everyone knows them. We all see them in the magazines, on the runways, and on television. We envy their flawless head-to-toe looks and secretly wish we could be them.
But how much money do these beauties make? Does it really pay to be beautiful?
According to Forbes, the top ten earners in the modeling industry are Gisele Bundchen, Heidi Klum, Kate Moss, Adriana Lima, Alessandra Ambrosio, Daria Werbowy, Lara Stone, Carolyn Murphy, Natalia Vodianova, and Candice Swanepoel. Combined, these top ten made roughly about $112 million this year.
Of the top ten earners, Gisele Bundchen, Heidi Klum, and Kate Moss make the top three.
Out of the three, Gisele is by far the highest grossing top model on earth earning $45 million a year… And for good reasons! This top model has made a move off the runway and into the business world to prove she is not just a pretty face. She's a mogul who has made herself into a brand name, contracted with Pantene, and has multiple endorsements.
Heidi Klum ranks in second place with a whopping $20 million, followed by Kate Moss, who earned $13.5 million in the last year.
Number 10 earner?
Candice Swanepoel at $3 million.
Although it's fair to say that, Bundchen, Klum, and Moss have been in this industry for a very long time, which is part of the reason why they are at the top.
Stone (grossing $4.5 million) and Swanepoel are both brand new to the list, recently replacing new moms Miranda Kerr and Doutzen Kroes.
Who made Forbes World's Top-Earning Models list?
Check out the list below (what, no Tyra?)
Gisele Bundchen $45 million
Heidi Klum $20 million
Kate Moss $13.5 million
Adriana Lima $8 million
Alessandra Ambrosio $5 million
Daria Werbowy $4.5 million
Lara Stone $4.5 million
Carolyn Murphy $4.3 million
Natalia Vodianova $4 million
Candice Swanepoel $3 million
---
Rhi Strayer is currently obsessed with Jeffrey Campbell shoes, sparkles, studs, and anything having to do with Lady Gaga.
All author posts