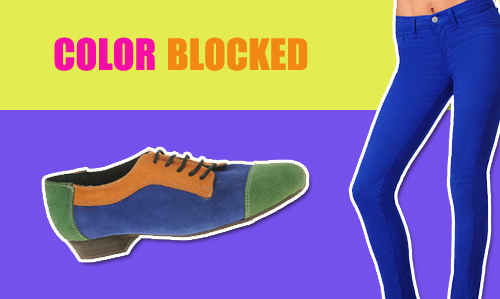 While most people wear colorful clothing in the summer, few people have mastered the technique of color blocking. Color blocking looks a lot like it sounds. (Think of blocks or segments of color as clothing items and accessories that make up your outfit.) Using shades that complement your skin tone as well as ones you enjoy wearing, makes the juxtaposition of color an easy trend to follow and a carefree way to expand your wardrobe.
Celebrities such as Emma Stone, Emmy Rossum, Olivia Palermo, and Carey Mulligan have embraced this fearless trend. It is a bold way to make a statement using your favorite summer colors.
So here are some ways for you to think about incorporating the color blocking trend into your wardrobe.

Left to Right: Black Halo, Bebe
Feeling sexy?
Try this ultra-sexy Open Back Colorblock Bodycon Dress from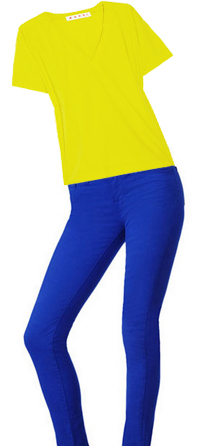 Bebe that is sure to make heads turn.
For those who prefer a Bohemian look, try this Black Halo one sleeve halter dress.
If dresses aren't your thing, you can always color block tops with jeans like with this
Marni V-neck top with these J Brand skinnies in electric blue.

From Top Left: ALSO, Marcy by Marc Jacobs, Asos
Too bold for you? You can wear this trend on your feet! I recommend statement shoes like these ASOS MIND Suede Color Blocked Lace Up Flat Shoe and MARC BY MARC JACOBS Block Color Wedges.
If you're on a budget, the ALDO Krone Color Block Wedge With Peep Toe are a great alternative.
No matter how you decide to color block, the color wheel itself is a good source of inspiration. You can learn what colors complement each other best like green and red.
Christmas in August anyone?
---

Bridget is a writer, stylist, and vintage clothing dealer based in Kennett Square, Pennsylvania. Bridget enjoys spending time with her boyfriend and guinea pig, and in her spare time sells vintage at local flea markets . Bridget is currently obsessed with Zooey Deschanel's wardrobe on New Girl, Moroccan food, and microcars.
All author posts