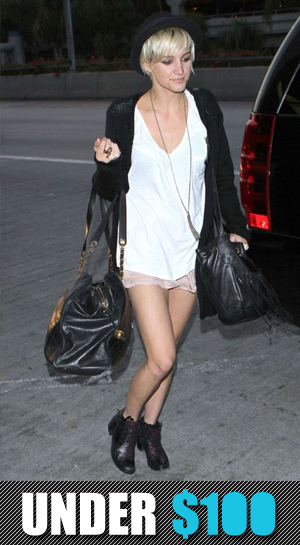 Ashlee Simpson was seen arriving at LAX dressed in a silky chic and slouchy outfit.
Why We're Obsessed: Ashlee is wearing the perfect traveling outfit.
Ashlee Simpson defined "comfort-chic" when she was seen boarding her flight not only looking comfortable, but pretty damn rock-star chic, too!
We love that her v-neck slouchy t-shirt is baggy and yet it still clings to her body and her over-sized black cardigan works perfectly with her lovely, silky pink and girly shorts.
Her black bowler hat is the perfect accessory, adding edge to one of our favorite looks this week.
Where You Can Buy: Luckily, this outfit is super easy to put together yourself. The different pieces aren't hard to find, and because you'll find most of the separates easily available, the complete look won't break your bank.
Total Cost to Our Look: $99.47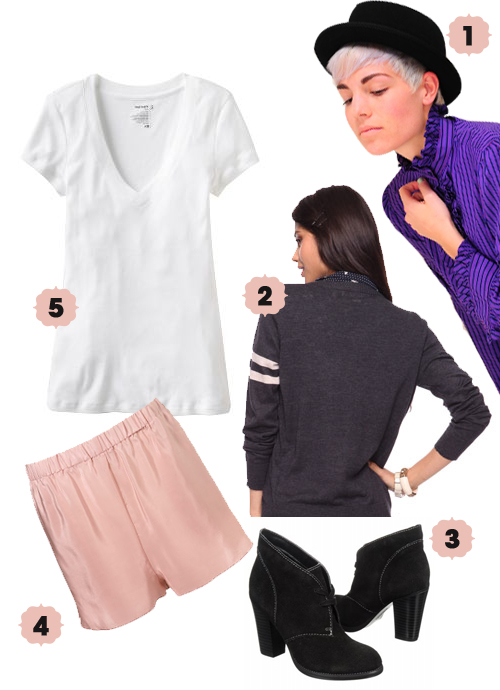 1. Isadora Hat | $21.50 | Details
2. Collegiate Striped Cardigan | $12 | Details
3. Shoes | $20 | Details
4. Silky Pink Shorts | $40 | Details |

5. White T-shirt | $ 5.97 | Details
---
Rhi Strayer is currently obsessed with Jeffrey Campbell shoes, sparkles, studs, and anything having to do with Lady Gaga.
All author posts