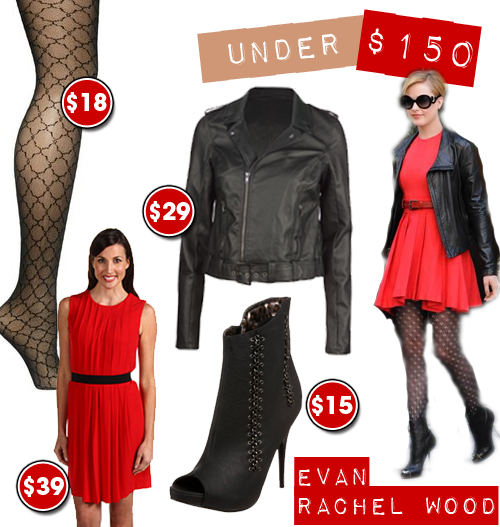 Evan Rachel Wood was seen wearing this lovely red meets rock n' roll look in front of her Manhattan Hotel.
Why We're Obsessed:  The "True Blood" star was a striking vision in her little red dress, motorcycle jacket, and heeled booties.  We love the fact that Wood took a classic red dress, which easily could have been styled conservatively,  and made it more youthful by adding a black leather jacket and boots.
Her accessories are the key to pulling off this look—the patterned tights add just the perfect amount of texture, and the Prada sunglasses give just the right amount of attitude. This is one "Lady in Red" that we can't enough of.
How To Get This Look: Want this look? Then try this Calvin Klein red dress, a pair of Ralph Lauren Tights, a motorcycle jacket, and these rockin' ankle boots!
Total Cost To Our Look: $103.20
{tights} Lauren by Ralph Lauren Tights, Chainlink
{dress} Calvin Klein Daytime Jersey Dress
{shoes}Liliana Women's Pro Ankle Boot
{jacket}FULL TILT Faux Leather Moto Womens Jacket
Tags:
Evan Rachel Wood