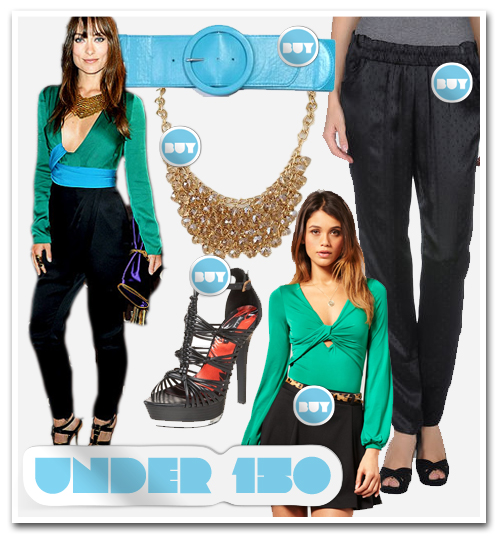 Click on the "buy" button for more information
Olivia Wilde looks effortlessly beautiful in this color-block silk Gucci jumpsuit at an event for the design house in Paris.
Why We're Obsessed:  The jumpsuit is the perfect mix of color-blocking and eclecticism. It's one of those jumpsuits that appears like it's comprised of separates at a quick glance. The jumpsuit provides a bright pop of color up top, and a slimming bottom half (not that Olivia's frame needs slimming).
Adding this House of Lavande necklace and Lucifer Vir Honestus ring provide depth to the ensemble as well as some glitz.
To tie it all together, the strappy heels and purple satin bag give a hint of sensuality without going overboard.
How to Get This Look: In order to color-block like a pro, try this Long Sleeve Twist Detail Bodysuit from ASOS in blue; D. Dikate black, satin pants; a wide turquoise belt; strappy platform heels; and a bead bib necklace.
Total cost to our look: $110.62
Large Round Leather Buckle Elastic Belt with Free Shipping | $8.99
Michael Antonio Women's Teriann Platform Sandal $24.50
Apt. 9® gold  bead bib necklace $15.40
ASOS Long Sleeve Twist Detail Bodysuit $22.73
---

Bridget is a writer, stylist, and vintage clothing dealer based in Kennett Square, Pennsylvania. Bridget enjoys spending time with her boyfriend and guinea pig, and in her spare time sells vintage at local flea markets . Bridget is currently obsessed with Zooey Deschanel's wardrobe on New Girl, Moroccan food, and microcars.
All author posts