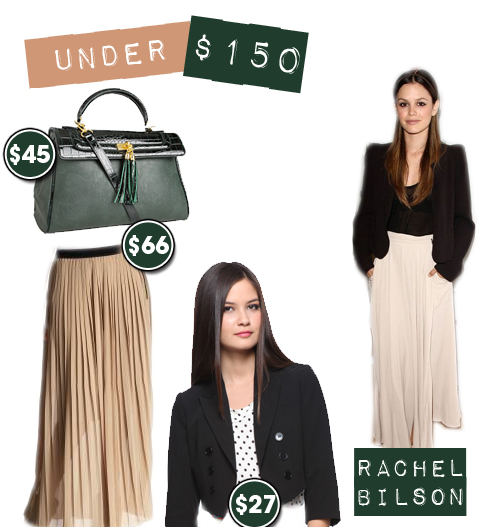 Rachel Bilson leaves us wondering how we can pull off this covered head to toe look while remaining incredibly sexy. The simple lines and contrasting colors of the outfit are minimalistic and a look we are anxious to try for the fall.
Why We're Obsessed: Bilson's blazer is incredibly structured. The shoulders of the jacket give her tiny frame shape and a strong presence. While her jacket is very dark, the contrast of her eggshell skirt gives her volume on the bottom.
A great way to give yourself volume is focus the lighter part of your outfit to where you need it the most. Are you big on the bottom? Leave your lighter tones for your upper half.
Bilson chose to give a pop of color  to her outfit by carrying an appropriately sized green handbag for the evening. The true highlight of this look is Bilson's smile, which is highlighted by her elegant hairstyle.
How to Get This Look: To get Rachel's look and take a break from those summer prints, try this cropped tuxedo blazer, pleated maxi skirt, and this green handbag from Aldo.
Total Cost to Our Look: $138.80
GET THE LOOK
Aryn K. Pleated Maxi Skirt | $66
Cropped Tuxedo Blazer | $27.80
---

Bridget is a writer, stylist, and vintage clothing dealer based in Kennett Square, Pennsylvania. Bridget enjoys spending time with her boyfriend and guinea pig, and in her spare time sells vintage at local flea markets . Bridget is currently obsessed with Zooey Deschanel's wardrobe on New Girl, Moroccan food, and microcars.
All author posts