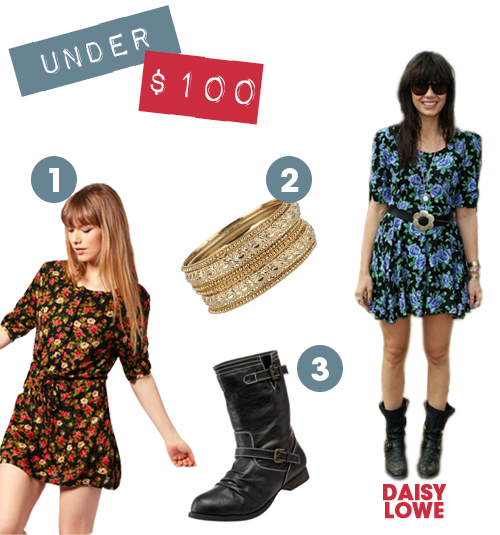 Why We're Obsessed: Sometimes it's difficult to combine style and function while dressing for the hot weather, especially when all you want to do is wear as little as possible. But Daisy Lowe effortlessly shows us how to beat the heat and still look like you walked out of a catalogue in her feminine and floral outfit.
Her simple, bohemian styled floral print dress drapes perfectly on her body. To show off her rockin' bod, she cinches her dress at the waist with a floral belt.
This look will keep her looking and staying cool as she pairs it with motorcycle boots. Throw in some oversized sunglasses and simple accessories, and you have an outfit perfect for any outdoor summer event.
How To Get This Look: Want to look as perfect as Daisy Lowe but stay within budget? Try this Mina Floral Tea Dress dress  from ASOS, and black motorcycle boots from Miss Me. All are key pieces to the outfit and are perfect for any good recessionista.
Total Cost To Our Look: $97.02
1. Mina Floral Tea Dress |  $49.40 | Details…
3. Textured Bangle Set | $6.80 | Details…
3. Miss Me Women's Fray-1 Boot | #40.82 | Details…
---
Rhi Strayer is currently obsessed with Jeffrey Campbell shoes, sparkles, studs, and anything having to do with Lady Gaga.
All author posts