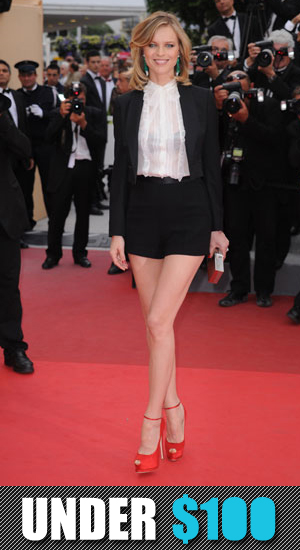 Actress and model Eva Herzigova made her appearance on the red carpet at the 64th Annual Cannes Film Festival for the premiere of "La Conquete" looking dazzling as always.
Despite recently becoming a new mom, Eva's figure is  slim as ever and she wasn't afraid to show it off in this menswear inspired outfit.
Why We're Obsessed: We're over the moon in love with Eva's outfit.
Masculine with a splash of femininity, it's the perfect look for a summer affair. The white ruffled shirt is soft and frilly juxtaposed with a structured Dolce & Gabbana cropped tuxedo jacket, making this our hot look of the moment.
And don't you just adore the way she makes red the outfit's standout color with her  peep-toe pumps and nails?
How to Get This Look for Under $100: To get this look, find simple high-waist black shorts, a smart tuxedo jacket, and a pair of red satin shoes.
Total Cost to Our Look: $95
---
Rhi Strayer is currently obsessed with Jeffrey Campbell shoes, sparkles, studs, and anything having to do with Lady Gaga.
All author posts