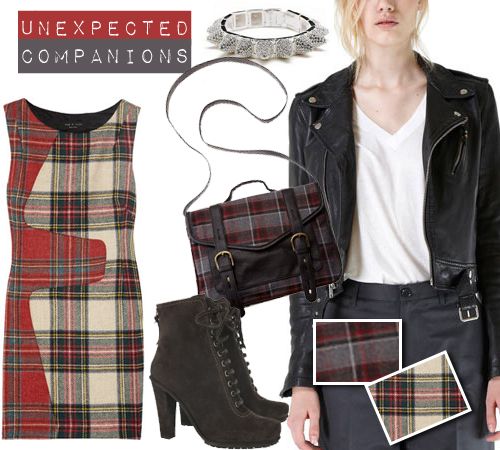 One of the easiest ways to pair prints and colors is through the use of plaid.
Plaid stirs up memories of London in the 1960's where music and edgy ruled. Bringing this influential time in fashion history into modernity can be done in many ways.
A modern trend that meshes really well with timeless plaid print is rock n' roll ready-to-wear. What says style like throwing on a leather jacket over a plaid dress, paired with motorcycle booties? All neutral accessories contrast against the plaid to tone down the look to a perfect level.
Adding a similar, but different printed plaid bag with black accents perfectly ties together the garments and accessories. The key to plaid is meshing one style with another to get the perfect balance of a toned down, edgy look.
If paired plaids are too much to start, try incorporating one plaid item into your wardrobe and accessorize around the color scheme. Soon enough, you will be pleading for plaid in all aspects of your wardrobe.
Here is how to get the look:
{Dress} Rag & bone Saami plaid wool shift dress
{Bag} Material Girl Handbag, Plaid Messenger
{Bracelet} Punk Princess Bracelet in Silver
{Shoes} Miu Miu Brushed-suede ankle boots
{Jacket} BLK DNM Leather Jacket 1
Tags:
Unexpected Companions
,
Unexpected Fashion Companions