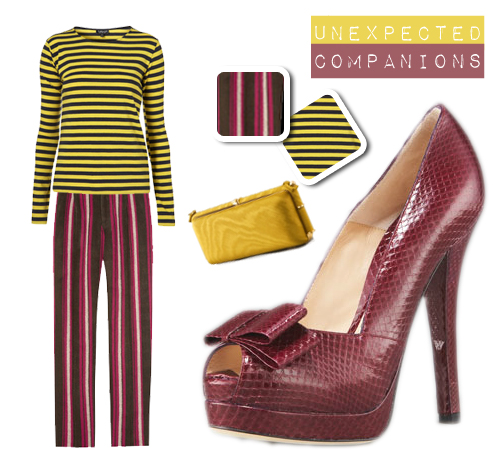 When you think of an entire outfit comprised of all stripes, what's your first thought?
Prison uniform-chic?
Embrace color this fall with multicolor stripes on multicolor stripes.
And if Ernie and Bert did it, why can't you?
You can avoid looking like a fashion disaster by picking two colors that are complimentary to each other. Also, make sure that the patterns that you do choose include a neutral color.
If this look proves to be too experimental for your taste, try just the top or just the bottom paired with a neutral piece. Vertical stripes are the best for legs that need to be lengthened, so if you have short legs, stick to pants.
Be sure to keep your accessories simple and inclusive of the clothing's color palette.
How to get this look:
Thakoon Striped woven cropped pants |  $ 880
Fendi Ayers Deco Snakeskin Pump | $895
Diane Von Furstenberg Minaudiere Coryn Moire Clutch | $345
Viscose Breton Stripe Long Sleeve | $40
Tags:
Unexpected Fashion Companions