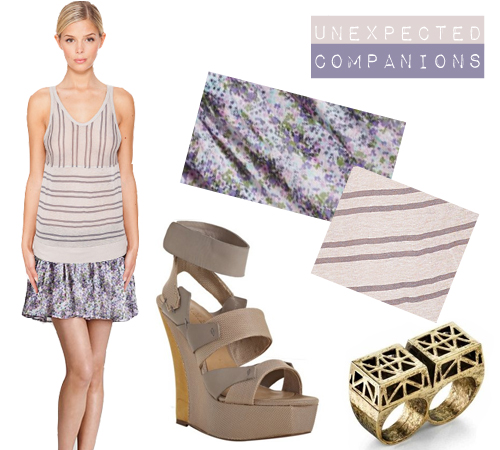 Mixing prints are often tricky, and most of us stay away from it in fear that someone (undoubtedly our frenemy) will be there to say, "Oh my God, what were you thinking?"
So we're here to show you that mixing prints can be easy, starting with the idea of combining stripes and florals (that may seem like a ridiculous concept, at first).
When we think about mixing prints, the general rule of thumb is to make sure one print is treated as a neutral, and your combination will be perfection!
The key is to keep both prints in complementary shades (i.e. light blue and grey) or pair classic white stripes (which will act as a neutral) with any floral (or vice versa).
To keep the look from becoming too busy, minimal accessories like a nude shoe and classic jewelry will work best.
Top:  T BY ALEXANDER WANG Striped Linen Tank Top
Skirt: Aqua Floral Chiffon Skirt
Shoe: L.A.M.B. Women's Kapono Platform Sandal
Ring: Low Luv by Erin Wasson Double Finger Ring