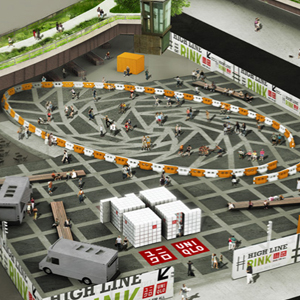 Starting today, you'll have an opportunity to do some old-fashioned roller skating at  The High Line in New York City courtesy of popular fashion brand, UNIQLO.
The High Line Rink is located on Manhattan's West Side and will be the only open air roller skating rink that can be found in the entire city.
Spanning an impressive 8,000 square feet, it is being temporarily housed inside a public plaza, the same venue which recently exhibited the stunning "Rainbow City" spectacle. The rink will be open to skaters of all ages, and to add a modern twist to this exhilaratingly retro experience, there will be a DJ spinning throughout the night.
The rink's sponsor is the famed fashion label, UNIQLO, who has signed on for a two-year partnership with High Line in order to "support the ongoing maintenance and operations."
UNIQULO is following in the footsteps of fashion labels Topshop and All Saints who have both featured outdoor events like this in NYC in the past.
We suggest heading  to West 30th and 10th Avenue as fast as possible, because if you are the first lucky 500 people to arrive today or tomorrow,  you'll get to skate the night away for free!
And when your feet finally get tired and need a break, be sure to make a quick pit stop at the Uniqlo cube, a shop that literally glows alongside the rink. Once inside, you will be able to find 100 percent authentic cashmere and the celebrity designed UNIQLO T-Shirts for their Save Japan! Project.
The High Line Rink will be open from 11:00 a.m. to 10:00 p.m. Sunday through Wednesday and from 11:00 a.m. to 11:00 PM Thursday to Saturday. Admissions prices are $10 for children under the age of 13 and  $12 for adults.
Included in the price are the roller skates rentals. The rink opens today through Monday, September 26.  For more information, click here.

Tags:
High Line
,
Manhattan
,
New York
,
The High Line Rink
,
UNIQLO