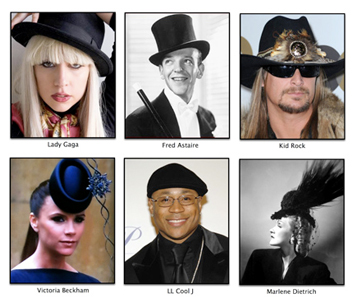 Lady Gaga and Victoria Beckham have been inducted into the Headwear Association's Hall of Fame for sporting cool hats.
For the past century, the Headwear Association—each year—has chosen six people to acknowledge for their innovative hat styles that have had an impact on fashion.
Gaga and Beckham  join fellow Headwear Hall of Fame 2012 Inductees  Marlene Dietrich, LL Cool J, Kid Rock, and Fred Astaire.
Their recognition comes to us as no surprise because the two star's have donned some stellar head gears.
Who could forget the hat Beckham wore to the royal wedding?
Or Gaga's multiple outlandish hats that ranged from meat to latex?
---
Rhi Strayer is currently obsessed with Jeffrey Campbell shoes, sparkles, studs, and anything having to do with Lady Gaga.
All author posts