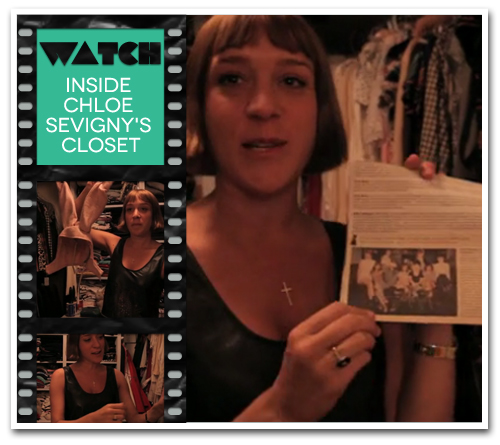 For those of you wondering what's in Chloe Sevigny's closet, look no further because Opening Ceremony is showing you.
In its video series, "At Home With Chloe," Opening Ceremony takes us inside the famous fashion muse's closet in her East Village apartment.
The self-professed pack rat and lover of the color pink (who knew?) shows us some of her knickknacks like the bunny ears she made for the film Gummo; a lovely heart motif jacket by Comme des Garcons; Alber Elbaz's Oscar dress sketches; and some S&M accessories that inspired her spring resort 2012 collaboration collection with Opening Ceremony.
While sporting her new lovely bob, Sevigny reveals one of her own designs for the next OC collection–a boxy-silhouetted dress that can be un-zipped to become a crop top. The two-in-one piece will come in black, red, white, purple and a possible chambray.
After Sevigny reveals an awkward backstage photo with Kate Moss from a past Miu Miu runway show, the video ends with a "to be continued…"
We can't wait to see the next installment!
Tags:
Chloe Sevigny
,
Opening Ceremony