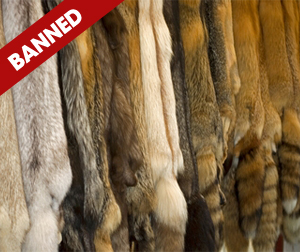 West Hollywood has just made history with the nation's first city to ban the sale of fur.
The West Hollywood City Council voted this past Monday evening to prohibit the sale of new furs within the town's city limits.
The meeting lasted over seven hours and the case of animal cruelty vs. fashion came to a very respectable conclusion—animals should not be sacrificed for the sake of fashion alone.
It was a unanimous vote that barred new sales with a stipulation that allowed the circulation of previously made fur garments, leather and fur used in furniture.
There has been no decision on a penalty for the sale of new furs, but the citizens of West Hollywood are still pleased with the councils overall decision.
Sponsor of the bill, Jon D'Amico had this to say about his fellow council members, "My colleagues were really wonderful, thoughtful, humane and socially compassionate legislators, and I'm honored to work with them.
The law could possibly be implemented by next June; leaving local business owners time to rethink their future inventory.
---

Saron is a writer and student born in Ethiopia and raised in Washington, DC. She is incapable of keeping a phone for longer than a few months, exclusively wears Miss. Dior Cherie, and her guilty pleasures include any novel written by V.C. Andrews (don't judge), Essie's "Little Brown Dress", and Stoli. She is currently obsessed with the poetry of Edmund Wilson and The Arctic Monkey's latest album "AM".
All author posts