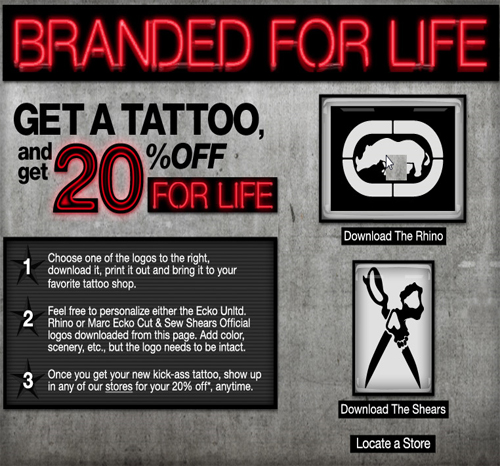 Hey kids, tired of paying full price for a t-shirt? Find that your skateboard wardrobe is suffering because the economy is down? Don't live near a Walmart?
In the latest twist of shameless, yet brilliant self promotion, Ecko is offering a 20 percent discount FOR LIFE on their clothing apparel to ANYONE that chooses to brand themselves with an Ecko tattoo.
Because if race cars can do it, why not you?
Now I know what you crafty, crafty kids are thinking. You're gonna tattoo the shit outta yourself so that you can get all the clothes for free and stick to the man.
Sorry, folks, they got that covered–limit one discount per person. But feel free to go nuts if you so choose.
Too bad Rick Genest wasted all his skin on that scary ass skeleton tattoo.
But I'm thinking Ecko brand wearer, Lindsay Lohan will be the first to whore herself out.
Oh wait. She's already got the five finger discount.
---

Mei Tan is currently obsessed with lace-up booties, anything by Marc Jacobs, sleeping in until noon, and "winning."
All author posts