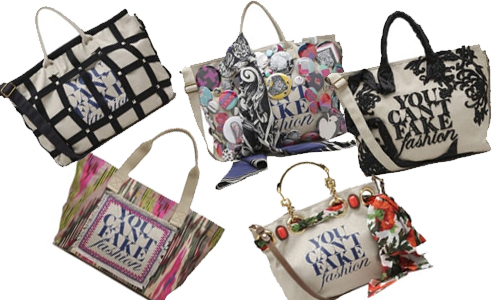 These days, more and more women are resorting to buying knock off handbags due to affordability, accessibility, and quality—often so good that the fakes are confused as authentic bags.
The popularity of fake bags are becoming a crisis in the fashion industry and many designers are speaking out against the trend citing that consumers might buy the fakes with an intent to buy their authentic products.
So, in an effort to stop this fashion epidemic, an impressive list of designers have teamed up with the Council of Fashion Designers of America, aka the CFDA, to launch a collection of  affordable designer canvas tote bags.
Band of Outsiders, Calvin Klein, Diane Von Furstenburg,  Jason Wu, Marchesa, Anna Sui, Helmut Lang, Peter Som, Rebecca Minkoff, Rodarte and 35 more designers have respectively created a limited-edition tote or clutch fashioned from canvas–each bag with a design playing off of the brand or designer's unique style.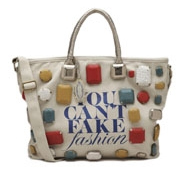 As an example, Betsey Johnson's tote is a wild kaleidoscope of bright colors while the Anna Sui is more demure, adorned with frilly cream colored lace and accented with a pretty blue bow tied to the handle. The only ongoing motif between each of the bags is the powerful caption emblazoned across the canvas in various fonts, "You Can't Fake Fashion".
While a canvas tote may not be the same as owning a leather designer hand bag, you still have the right to flaunt it and say that you own a 100 percent authentic Jason Wu, which is something the owners of the knock-offs don't have the right to say.
The designer bags will retail for $150 while the CFDA designed bags will be sold for $35.
With each purchase, your money will help the fight against counterfeits.
You can pick up your favorite design at the eBay online auction house, an ironic twist since eBay is one of the sites where most of the knock-offs are being sold.
Check out the entire collection here and pick out your favorite. Limited-edition means they won't last forever, so be sure to get yours now!
---
Rhi Strayer is currently obsessed with Jeffrey Campbell shoes, sparkles, studs, and anything having to do with Lady Gaga.
All author posts