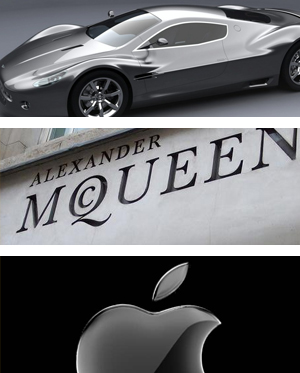 36 influencers in fashion, music and TV, along with 2,000 Britons voted for the brands that they considered to be the coolest.
The results are in, and it's no surprise that the McQueen fashion house made the Top 20 list, beating out powerhouse label, Chanel.
McQueen was the top designer featured on the list, taking the eleventh spot, while Chanel took fifteenth.
Several factors could have influenced McQueen's popularity: Sarah Burton's royal wedding dress, the Savage Beauty exhibition at the MET that broke attendance records and long-standing admirers of the late designer's work were contributing factors.
The top 20 list is as follows:
1. Aston Martin
2. Apple
3. Harley-Davidson
4. Rolex
5. Bang & Olufsen
6. BlackBerry
7. Google
8. Ferrari
9. Nike
10. YouTube
11. Alexander McQueen
12. Dom Perignon
13. PlayStation
14. Ray-Ban
15. Chanel
16. Nintendo
17. Vivienne Westwood
18. Agent Provocateur
19. Tate Modern
---

Saron is a writer and student born in Ethiopia and raised in Washington, DC. She is incapable of keeping a phone for longer than a few months, exclusively wears Miss. Dior Cherie, and her guilty pleasures include any novel written by V.C. Andrews (don't judge), Essie's "Little Brown Dress", and Stoli. She is currently obsessed with the poetry of Edmund Wilson and The Arctic Monkey's latest album "AM".
All author posts