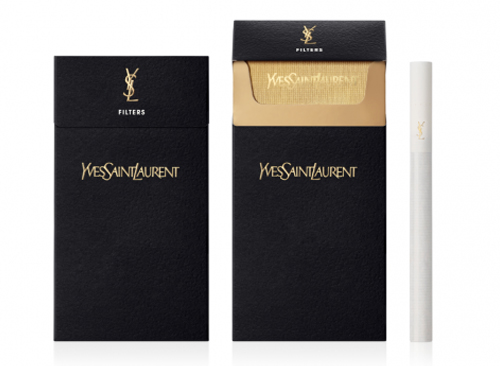 "The woman who smokes YSL cigarettes is more attractive than one who smokes another brand or doesn't smoke at all."
In a nutshell, you're only as attractive as the brand of cigarettes you smoke.  Truly words every smoker should live by.
This chic, black box with the words Yves Saint Laurent stylishly engraved across the packet in gold-lettering, delivers designer cancer you won't find anywhere else…Unless you smoke another brand of designer cigarettes, in which case let's face it, you're settling for less, and as Maureen Dowd once said (inadvertently demonstrating the universal application of quotations despite a consistent frame of reference), "the minute you settle for less than you deserve, you get even less than you settled for."
Whilst many may not be familiar with these 'cancer sticks', an unfamiliar and refreshing term used to cleverly describe the effects of smoking, Yves Saint Laurent actually introduced these "fashion cigarettes" in 1989 as an attempt to appeal to both the female smoker and non-smoker. However, as a result of launching a new advertising campaign (in 2011), the French fashion house has received a considerable amount of attention from the media, much of which has been negative criticism for using its glamorous brand to promote cigarettes.
Unfortunately for those outside of Russia and Asia, tobacco advertising remains strictly prohibited, which undoubtedly means that the remainder of the world will just have to preserve its nicotine addiction voluntarily.
God help us all.