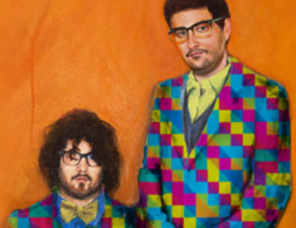 Dale Earnhardt Jr. Jr.
With such a cheeky name, it's hard to ignore Dale Earnhardt Jr. Jr., named after the famed racecar driver. The curious twosome is comprised of Joshua Epstein and Daniel Zott. With twinkling electro-pop woven into subtle dubstep drops, DE Jr. Jr.'s music is as light and cheery as their name would prompt one to believe.
The group have been hard at work delivering their music, with an EP titled "Horse Power" released last June, quickly followed by "My Love Is Easy: Remixes Part 1," filled solely with remixes of the first EP. This was then followed by a re-release on cd and vinyl last April of both EPs, complete with trippy cover art and 3D glasses to gaze at them through.
James Cameron is probably beating himself up for not thinking of this first with the release of the soundtrack to "Avatar."
Latest tracks by Dale Earnhardt Jr. Jr.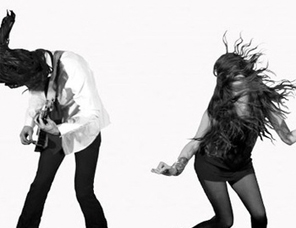 Cults
It seems like the buzz will never stop surrounding this vintage lo-fi pop duo. Madeline Follin and Brian Oblivion have kept the hype alive by slowly releasing singles like "Go Outside" and "You Know What I Mean" on their website.
There was an air of mystery about them, which perfectly suited their creepy name coupled with ethereal pop music reminiscent of the melodies of '60s girl groups. And it's that mystery that still keeps them interesting, especially when they pair their summery sweet tunes with bizarre, David Lynch-inspired music videos, like their the latest release, "Abducted" — which mainly features a woman wearing a thin dirty nightgown rolling around on a street before being placed into the trunk of a man's car. Their eponymous debut album is set to be released on June 7, but it's also streaming in full on NPR until the, for those who can't wait to get their fix.
Latest tracks by cultscultscults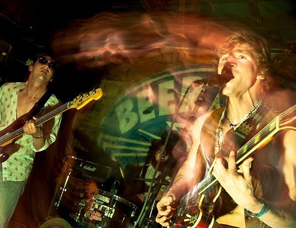 The People's Temple
It's fair to say that the world of rock'n'roll has seen no shortage of psychedelic bands since the days that long-haired hippies twirled around Haight-Ashbury in the late 1960s. And over the recent years, Australian bands like Wolfmother and Tame Impala have slowly snuck their way into the mainstream to revive stoner rock.
But this time around, it's Michigan-bred rock band The People's Temple who are seeking to champion psychedelic rock. The band is comprised of two sets of brothers, Alex and George Szegedy, and Spencer and William Young.
Their influences range from artists like the Rolling Stones and Link Wray, to experimental rock bands the Velvet Underground and Joy Division. The variety of inspiration is apparent in their music, as they often fluctuate between shoe-gazing indie rock to full-out, jam-worthy psychedelia. Since they got together in 2007, the band has released two albums; the modest three song collection "Make You Understand" last September, followed in April by the full-fledged, 19 song album "Sons of Stone."
People's Temple 'The Surf' by HOZAC RECORDS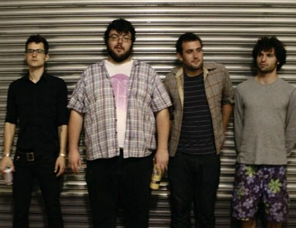 Shark?
If the name is any indication, Shark? delivers beachy surf rock with a punk edge á la California rock bands Wavves and Best Coast. However the band is based in Brooklyn, that hipster music haven for most self-respecting indie bands these days.
And yet, rather than passing off lazy riffs, boring vocals, and twitchy pop hooks as music like most generic indie bands, Shark? provides a more anthemic vibe, delivering music that has an early '70s influence.
They just released their first album "True Waste" three days ago and it's full of danceable rock tunes like "I'm An Animal" and "Slap Dash." To get a taste of their earlier sound, the band has offered up "Death to the Early Years" for free, which is a combination of their first three EPs "Fear!" "noise maker" and "School Night." But if the album's name is any indication of how the band feels about their early work, you might be better off just listening to the new album and their amazingly cultivated rock sound.
Latest tracks by sharkquestionmark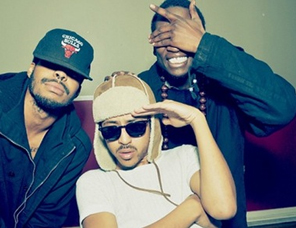 The Weeknd
Thanks to a small Twitter shoutout from Drake last March, The Weeknd has quickly shot to fame.
The Toronto-based one-man R&B project is fronted by Abel Tesfaye. After Drake posted a part of the Weeknd's lyrics to "Wicked Games" on his Twitter page, accolades have slowly followed, with the release of the Weeknd's free album "House of Balloons" seeing its release in the same month. The album is a nine-song collection and is the first in an album trilogy, with the upcoming albums "Thursday" and "Echoes of Silence" to be released later on this year.
The Weeknd's sexy falsetto soars high over dubstep-laced R&B, breathing some much needed life into a tired and stilted genre. And it's easy to see why Drake likes Weeknd so much — the drawn out vocals and simple instrumental arragements are heavily reminiscent of Drake's own low-key releases like "The Resistance" and "Paris Morton Music," where he does more singing than rapping.
Considering the Weeknd is already in talks to do collaborations with the rapper, it's clear that Tesfaye is well on his way to an illustrious career as a hip hop staple.
Tags:
Abel Tesfaye
,
Cults
,
Dale Earnhardt Jr. Jr.
,
Drake
,
Shark?
,
The People's Temple
,
The Weeknd