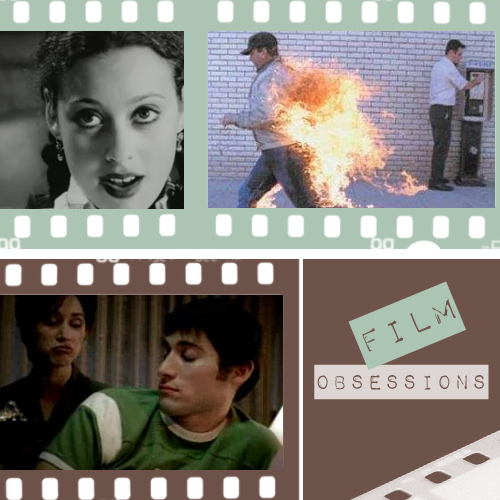 Typically, with this Film Obsessions column, I like to showcase new and original short films by up and coming, independent filmmakers. It's important to share and help spread the work that people put countless hours and hard-earned money into out of sheer passion for their art.
That's the aim of this column and I intend to keep it that way.
However, today I'd like to break from format and showcase three short films that were created by directors before they got famous. If anything, this should be a reminder for amateur filmmakers that with hard work, diligence, and a unique vision, it's not impossible to "make it."
So today comes three shorts by three famous filmmakers, Sofia Coppola, Spike Jonze, and Jason Reitman, before they made it in the industry.
Lick The Star (1998) dir. Sofia Coppola
About a year before she made her critically-acclaimed debut with The Virgin Suicides (1999), Sofia Coppola made her foray into filmmaking with this low-budget short.
Shot in grainy black and white, Lick The Star seems less like any of Coppola's later work and more like a dark precursor to Mean Girls.
The plot revolves around a clique of popular middle school girls and their attempt to poison the boys in their class with arsenic. Yet, if you look closely, many of the themes in this little short mirror a lot of the larger common themes found in her later work. Themes like isolation (Lost in Translation, Marie Antoinette) and the hardships of the transformative years of adolescence (Virgin Suicides, Marie Antoinette).
Sure, it's fair to say that with her famous lineage Sofia Coppola had a genetic predisposition to make it big as a filmmaker. But the amateur, DIY nature of this short shows us that it doesn't matter who you are or who you know, everybody has to start somewhere.
BONUS: A wild Peter Bogdonavich appears at 6:17
Written & Directed by: Sofia Coppola
Runtime: 14 minutes

How They Get There (1997) dir. Spike Jonze
Spike Jonze, the famed director behind Adaptation, Being John Malkovich, and Where the Wild Things Are is most known for kickstarting his career through cleverly visceral and ironic music videos. But before he made his full-time foray into narrative filmmaking, he directed this great short that aptly defines his directing style.
There's no doubt that at one point or another, you've seen a mysteriously abandon pair of shoes in the middle of the street and wondered: "How the hell did those get there?" Spike's darkly comic short explores just that.
Though only two minutes in length, it's clear that many of Jonze's trademark sensibilities in his later films are derive from this short.
Directed by: Spike Jonze
Runtime: 2 minutes & 6 seconds

Consent (2004) dir. Jason Reitman
Before Oscar-nominated director Jason Reitman got his big break with his directorial debut in 2005 with Thank You For Smoking, he started out by directing a slew of very successful, low budget short films, most notably, Consent.
The premise is simple and filming and production for this couldn't have taken more than a day, but Reitman manages to make one of the gut-bustingly hilarious and original shorts I've seen in a while.
Directed by: Jason Reitman
Runtime: 6 minutes & 9 seconds
---

Matt is currently obsessed with Rap Snacks, post-hardcore, pizza parties, and Carl Sagan's Cosmos.
All author posts