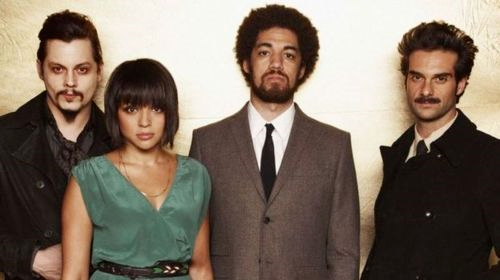 Danger Mouse's latest project with Italian composer, Daniele Luppi, "Rome," was an ambitious and beautifully crafted album that took five years to make.
The collaborative album was influenced by soundtracks of spaghetti westerns, which is apparent in the haunting lyrics and creeping guitars. Its sinister beauty was captured perfectly by the vocals of living rock legend, Jack White, and everyone's favorite jazzy chanteuse, Norah Jones.
Everything comes together seamlessly on the track "Two Against One." The dark vocals are warbled out by Jack White, who's in fine form; it's a great new sound for White, who usually always brings the blues to everything he does.  The orchestral arrangement of guitars and drums creeps its way into your ears and broodingly intertwines with the echoey chorus, sung by the revived Italian choir, Cantori Moderni (who were featured on the soundtrack of "The Good, the Bad and the Ugly").
Chilling lyrics also add to the western feel, with White and the choir singing "I get the feeling that it's two against one/I'm already fighting me, so what's another one/the mirror is a trigger and your mouth is a gun."
It's easy to imagine this song serving as the perfect backdrop to a montage of a mysterious cowboy preparing for a final showdown.
Listen to "Two Against One" below:
Danger Mouse & Daniele Luppi – Two Against One (Ft. Jack White) by MMMusic
Tags:
Cantori Moderni
,
Danger Mouse
,
Daniele Luppi
,
Jack White
,
Norah Jones