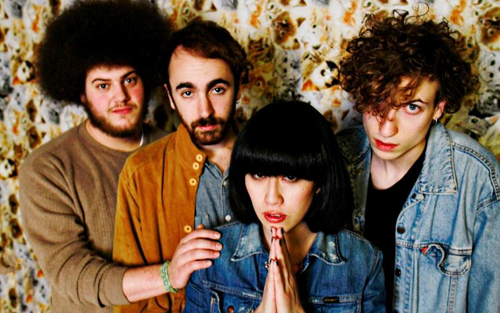 Milkshakes – they're usually sweet, thick things filled with ice cream and calories. Usually, when one is mentioned I can't help but smile. Surprisingly, I have the same reaction when I listen to one song with the same title. No, I'm not talking about a milkshake that will "bring all the boys to the yard"; this milkshake is more suited for those with a taste for dreamy riffs and tongue in cheek lyrics that leave you inspired, not knowing why.
The inaccurately titled quartet Yuck has just released their self-titled debut album and it is easily one of the musical highlights of 2011, thus far. "Milkshake" is a part of the double A-side single slated to drop next month. The track is complicated, each chord cries slacker, yet the vocals seem to transcend it all, paying homage to their indie rock ancestors so well you cant help but smile.   This London based indie band screams nostalgic. They make you think of the way grunge use to be, with a splash of some other wonderfully lazy yet soulful quality you can't quite put your finger on.
After spending the better part of the season touring with "Tame Impala", they've just announced they'll be heading stateside again this summer, touring with psychedelic, soul-pop trio "Unknown Mortal Orchestra."  This is just the beginning for "Yuck", but from the looks of it their "Milkshake" is, most certainly, better than yours.
Listen to Yuck's "Milkshake" below:
---

Saron is a writer and student born in Ethiopia and raised in Washington, DC. She is incapable of keeping a phone for longer than a few months, exclusively wears Miss. Dior Cherie, and her guilty pleasures include any novel written by V.C. Andrews (don't judge), Essie's "Little Brown Dress", and Stoli. She is currently obsessed with the poetry of Edmund Wilson and The Arctic Monkey's latest album "AM".
All author posts