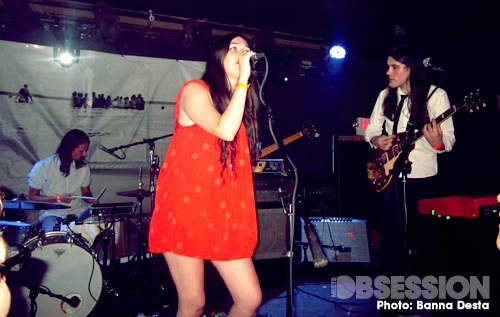 There's something ethereal about the vocal heights that Madeline Follin's voice can climb. As one half of the indie band, Cults, Follin and Brian Oblivion (guitarist and bandmate) blazed through an amazing set at D.C.'s Rock N Roll Hotel this past weekend.
On tour for their recently released, self-titled debut album, Cults have gotten a considerable amount of press for their breathy '60s inspired pop music. They even caught the attention of British pop chanteuse, Lily Allen, who signed them to her In the Name Of record label, an imprint of Columbia records. Through the whirlwind of press they've been receiving, Cults have kept personal details about them extremely limited, focusing the bulk of the media attention on their music — lending them quite the mysterious air.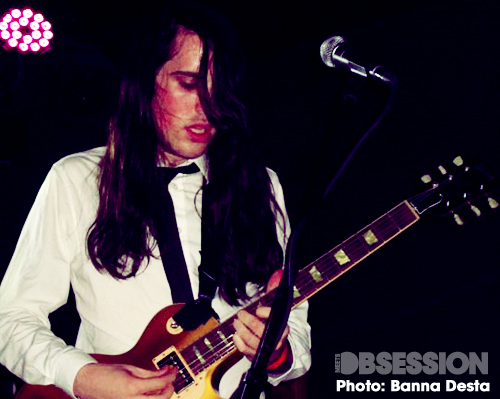 Opening for the show was San Diego-based garage rockers Writer. The duo is composed of brothers Andy and James Ralph. In essence, Writer are probably one of the best new bands around that you've never heard of. Their sound, though rock'n'roll at the core, encompassed many genres; songs like "Miss Mermaid" had a slow-thumping Americana tinge, "Head To Toe" had an anthemic folksy feel, while "Hot Days" was a simple and straightforward indie rock jam. To close out the performance, they ended on the dark and electronic "Cash For Gold."
The second opening act was five-piece romantic rockers Guards. The resemblance of the band members to those of Cults was particularly striking. They looked like a happy hippie family, what with their svelte figures and nearly waist-length dark brown hair. Oh yeah, and lead singer Richie happens to be Madeline Follin's brother.
After decorating the stage in fake stuffed crows and a single lamp, Guards launched into their jangly rock, giving off a gothic Edward Sharpe and the Magnetic Zeros vibe.
Follin's voice was soft and high, singing sweetly over vintage pop-rock gems like "Crystal Truth" and "Long Time." Though the band looked a lot more doom and gloom then music suggested, darker influences came in the form of the heavy and organ-laden "Sail It Slow." They followed this up with sunny singles like "Don't Wake the Dead" and a rambunctious cover of "Born Free" by controversial rapper, M.I.A.
After an amazing set, Guards made way for Cults.
Accompanied by a backing band — who also all had extremely long dark locks, which seems to be a prerequisite to work with them— Follin and Oblivion launched into Cults' latest single, "Abducted."
Follin's voice is marvelous, with her girlish coos serving as the perfect accompaniment to Oblivion's deep tenor. The band's sound has often been likened to modern '60s girl group pop, so Follin took the opportunity to play up that aspect of their performance. Wearing a tiny, mod red dress and t-strap ballet flats, Follin would sway and pout, churning out dance moves she probably learned by watching old clips of Shangri-La performances. Oblivion kept up the rock aspect to their show, wearing a dress shirt and tie, and jamming out on the guitar, all while flipping his equally long hair.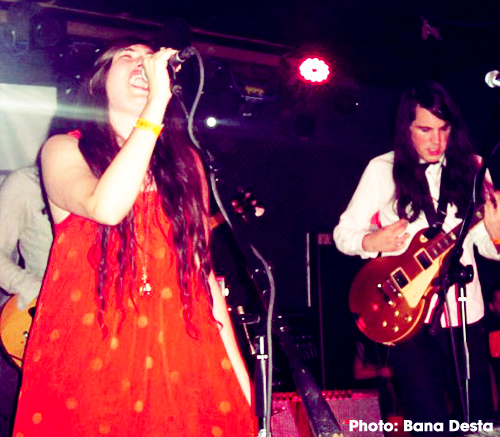 They then performed infectious tracks like the echoey "Most Wanted," "The Curse" and "You Know What I Mean."
Keeping the stage banter light, Follin assuaged the happy, packed crowd with the obligatory statement that D.C. is one of their favorite places to perform. Oblivion was on the sarcastic side, telling silly jokes to the audience and prompting them to "booty bump the person in front of you" when the song "Bumper" came on.
They saved the best few songs for last, finally serving up the crowd pleaser, "Go Outside," in which Oblivion threw in a gnarly guitar solo, adding some much needed danger to a sweet and safe song. Follin even threw up some devil horns after the song was over.
Next was "Rave On" in which Follin's voice went higher and higher on the ever-soaring chorus — it's hard to describe how otherworldly her voice can be, except that this must be how pixies on acid sing.
Closing the show was the reverb laden "Oh My God," which could be best described as a "Go Outside" part 2.
Towards the end, Oblivion took the chance for another solo, but this time jumped into the audience to start a mini mosh pit.
With performances like this, it's easy to say that Cults have truly lived up to all the hype.
---

Yohana Desta is currently obsessed with Butch Cassidy and the Sundance
Kid, everything Dave Grohl does, and listening to Arctic Monkeys on
repeat.
All author posts