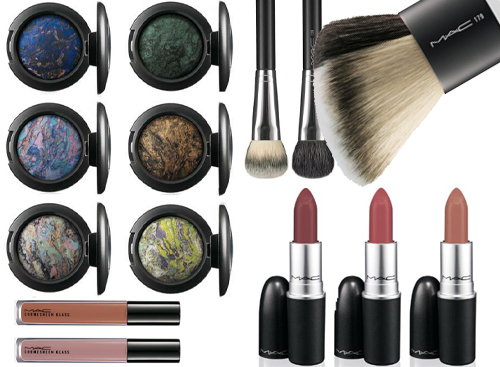 If you're a MAC lover, today is a very good day. The line officially launches its Semi Precious collection for summer 2011, and this new batch does not disappoint.
The impressive 30-plus piece set includes three perfectly pigmented Mineralize blushes, 12 terrific Mineralize eye shadows, four luscious lipsticks, five Creamsheen Glass glosses, four Mineralize Skin Finishes, a Mineralize Satin Finish Foundation, a Mineralize Face + Body Lotion, and a Mineralized Charger Water mist spritz.
Phew!
And if that's not already enough, the collection also includes four brand new split fibre brushes for expert application.
The entire assortment is incredibly impressive, but my favorites are the eye shadows and Skin Finishes, hands down.
The sparkling spots of color are beyond beautiful.
Of course, they're wonderfully wearable on my skin, but they also look just as lovely lined up on my vanity table. Like tiny little paintings pressed in a palette.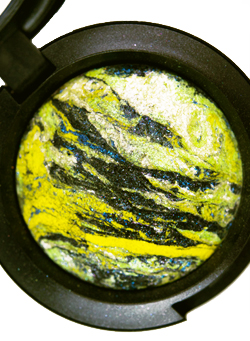 Take Unsurpassable, for instance.
It's a gorgeous emerald green flecked with teal, purple, and cooper, and it's memorizing to look at (even before I've put it on my lids). Same goes for Clarity, with its insane swirls of pink, off-white green, black, and glimmering gold.
I could go on and on, but I think you get my point. All of the products in this collection are MAC-tastic—moisturizing, blendable, and durable.
It's MAC, after all.
But the physical beauty of these mineralized babies are so lovely and truly unique. They're like abstract works of art, conveniently pressed and packaged for our own makeup needs.
And I think it goes without saying—I need them all.
---

Susan is a freelance writer, born and raised in NYC and currently based in Brooklyn. She's the senior beauty editor for Meets Obsession, and also writes for online publications such as Mamasarollingstone.com, TueNight.com.
and The Huffington Post. Susan had a serious candle hoarding issue that she has no plans to address. She's currently obsessed with Marc Jacobs' new beauty line, her black Zara moto jacket, and Aaron Paul.
All author posts