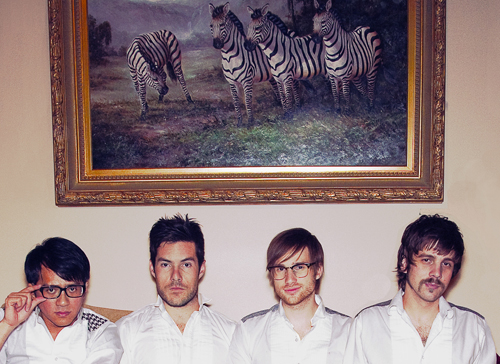 Los Angeles locals, Saint Motel, are reinventing a new kind of modern cinematic rock. They're energetic and eccentric, and know how to move, sing, and make you dance.
An L.A. buzz band, lead singer A/J Jackson, guitarist Aaron Sharp, bassist Dak, and drummer Greg Erwin met in film school in California, and since then, have hijacked the L.A. music scene with their infectious melodies and exuberant personalities on and off the stage.
With the release of their debut EP Forplay containing contagiously dynamic songs like "Butch," "Dear Dictator," and "To My Enemies," the boys of Saint Motel prove that they are a legitimate band with songs that extend beyond a summer mixed-tape. With the release of their new single, "Puzzle Pieces," they show their staying power.
Since their formation in 2007, Saint Motel have hosted "musical zombie proms," rocked "Judgment Day" themed concerts, and played with notable bands like Fitz & The Tantrums, Neon Trees, She Wants Revenge, and Band of Skulls.
Saint Motel's performances evoke a powerful nostalgia and dramatic musical experience that is comparable to legendary artists like Alice Cooper, Kiss, and David Bowie.
Their shows are a kaleidoscope of colors, motions, and meandering instruments. They often resemble striking correlations with what could be described as a "glam-dress-up-party-meets-alien-abduction." Saint Motel—although attuned to indie-pop inclinations—is an unconventional band that takes you on a random psychedelic trip.
Sometimes live performances are mere displays of a band's auditory capabilities. However, Saint Motel performs with a special, cinematic allure, and are belting proof that music doesn't have to adhere to tedious social trends of conformity.