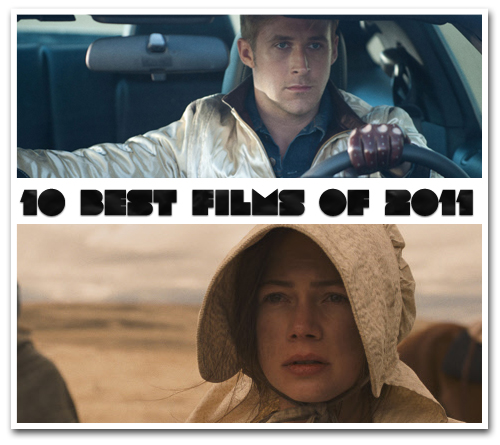 I'm hesitant to even publish this list in its current standing,  because I know in about a week I'll probably have changed my mind again. 2011 provided such a rich crop of magnificent films that compiling this list and forcing myself to rank these films proved to be a much more challenging and painstaking task than I anticipated.
Indeed, with such a strong crop of films this year, many films that were certainly list-worthy just didn't rank up with some of the stronger ones of the year. Consider these the "runner-ups," or "honorable mentions," though I'm confident had they been released in an off-year of cinematic achievement (of which their have been plenty), they'd have made this top 10 list.
Still, credit where credit is due (in no particular order): The Future, Shame, Another Earth, Hugo, Midnight in Paris, Win Win, Bridesmaids, 50/50, Beginners, We Need to Talk About Kevin, and Moneyball.
And even more, there's still a small crop of buzzworthy films I have yet to see, which may or may not have altered this list, particularly: Certified Copy, Uncle Boonmee Who Can Recall His Past Lives, Point Blank, Le Havre, Pariah, and A Separation.
But, I digress. So, without further ado, I present you with the 10 Best Films of 2011:
Exhilarating, mesmerizing, and physically exhausting to watch, Kelly Reichardt's revisionist western is a terrific portrait of the desperation and desolation of life on the Oregon Trail in the late 1800's. Featuring a stellar performance from always-excellent Michelle Williams, Meek's Cutoff redefines structuralist realism.
Jeff Nichol's brilliantly crafted psychological character study about a man (Michael Shannon) plagued by visions of an apocalyptic storm proved to be one of the most thrilling films of the year. Shannon's performance was a tour-de-force, and Nichol's keen direction and sharp script made the film an exceptional allegory for the current economic landscape.
Both an antithesis to mass-produced Hollywood movies and a love-letter to the glory days of action films, Nicolas Winding Refn's Drive was one of the most original, glowing films to come out in 2011. Sexy and stylish, the film featured a great turn for star Ryan Gosling, but it was Albert Brooks' villainous role that has been most talked about. Expect this one to go down as a modern classic.
Check out our interview with Drive director Nicolas Winding Refn.
Recalling the compassion and realism of the French New Wave, this delicate love story between two gay men in Nottingham was one of the most profoundly authentic films of the year. Led by writer/director Andrew Haigh's superb writing and masterful direction, Weekend boasted breakout performances by stars Chris New and Tom Cullen.
Though writer/director Terrence Malick has already proven himself as one of the most deeply profound auteurs of modern cinema, The Tree of Life proved to be his most personal film to date and perhaps the magnum opus of his career. Following a non-linear narrative that connects the childhood experiences of a young boy in the 1950's with much deeper mediations on the life, God, and the Universe, The Tree of Life is as beautiful a film as it is multi-layered and complex.
Azazel Jacobs' coming-of-age dramedy Terri, came and went through theaters without much notice, but don't let that deter you from this fantastic and moving portrait of an awkward, overweight teenager struggling to figure it all out. With a great supporting cast featuring John C. Reilly and Creed Bratton, Terri is a very special film that handles the unpleasantness of adolescence with flair.
Sean Durkin's explosive feature film debut was not only one of the best and creepiest atmospheric thrillers of the year, but also featured a stellar breakout performance from newcomer Elizabeth Olsen. Indeed as much as this film has been talked about, Olsen's mesmerizing performance as the fragile and emotionally scarred titular character proved that she's a new force to be reckoned with.
Check out our interview with Martha Marcy May Marlene star Elizabeth Olsen.
Werner Herzog's keen sense of intrigue and philosophical investigation has made him one of the most fascinating documentarians around. This year was no break for Herzog, as he released two tremendous documentaries, Cave of Forgotten Dreams and Into the Abyss. The fantastic and groundbreaking Cave of Forgotten Dreams explores the mysteries of our past through the discovery of the oldest known cave drawings discovered in the south of France, while Into the Abyss is a philosophical quandary on the morality of the death penalty as shown through the case study of a tragic triple homicide in a small Texas town.
Bertrand Bonello's period piece House of Pleasures is a rare film that achieves a certain kind of cinematic language that transcends time. This lush, atmospheric representation of a Parisian brothel at the turn of the 19th-century explores the world's oldest profession through an emphatic, tragic lens. Beautifully shot and featuring a keen use of modern pop songs (particularly in a moving sequence featuring The Moody Blues' "Nights in White Satin"), Bonello's film is a remarkable achievement.
Steve James' moving documentary about a group of reformed gang members trying to make a difference in their violence-torn Chicago neighborhoods was the social-change film of the year.
James and co-producer Alex Kotlowitz demonstrated brave and daring documentary work as they tireless follow their captivating subjects around in even the most dangerous of situations. The Interrupters is an inspiring film that gives hope to an otherwise grisly situation and proves to be an important call-to-action film.
---

Matt is currently obsessed with Rap Snacks, post-hardcore, pizza parties, and Carl Sagan's Cosmos.
All author posts