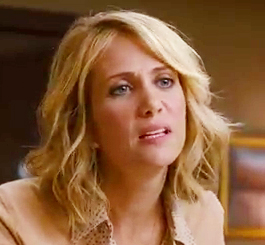 Words just don't explain how much we love actress Kristen Wiig. She's funny, smart, and she's a refreshing breath of fresh air from the ubiquitous reality starlet.
And after watching this short bonus clip from Bridesmaids, our love for the funny woman just grew stronger.
In the newly released 10-minute Bridesmaid bonus clip titled The Longest Argument Ever, Whig argues with a teenager—or rather—defends herself from the verbal attacks of a "twatty" teenager in one hilarious moment.
Seriously, if you're having a bad day, you must watch this video. You're certain to feel better about yourself. Even if it is at the expense of Whig.