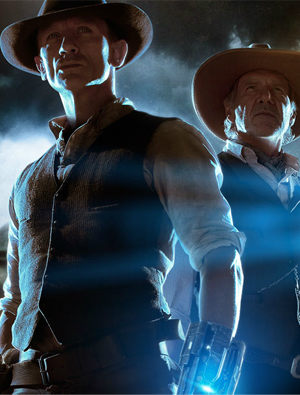 Typically, one of the most telling red-flags about the quality of a film, especially if it's a big Hollywood production, is the number of screenwriters it has.
Almost innately, film critics know that the film is likely going to suck when the names of six screenwriters roll over in the opening credits.
So when I sat down for the press screening of Cowboys & Aliens and saw five names of various screenwriters appear, I along with the rows of the reviewing press released a resounding "ugh."
Sure enough, Cowboys & Aliens was one of the most cliché, non-sensical and poorly acted films to be released this summer.
The film stars Daniel Craig as Jake Lonergan, a wanted cowboy in the wild west who, in the beginning of the film, wakes up in the middle of the desert beaten up, without any trace of who he is or how he got there, and has a mysterious, futuristic bracelet attached to his wrist. Craig's character also is played as a mysterious and dangerous guy who mumbles sporadically.
"Why ain't he talkin'? Maybe he's just dumb!" mutters one of the cowboys who finds Craig, and delivers, unfortunately, the first of many flat lines by the film's characters that would continue throughout the story.
Craig's character "ain't talkin'" because it seems as though screenwriters Damon Lindelof (Lost co-creator and showrunner), Alex Kurtzman, Robert Orci, Mark Fergus, and Hawk Ostby (I told you there were a lot) somehow didn't write one worthy line for even the main character to say.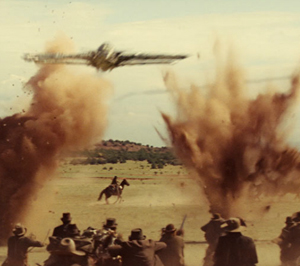 Cowboys & Aliens is a film that is merely a collection of painstakingly predictable western and sci-fi clichés that are so lazily mashed together that it becomes a massive failure even before Craig says anything.
The plot itself leaves something to be desired. Jake wanders the desert bewildered and absent until he finds himself in a small Arizonian town. After a confrontation with Percey Dolarhyde (Paul Dano), the local bully who terrorizes the town and gets away with it on account of his rich dad Woodrow (Harrison Ford), he finds himself imprisoned and, as it turns out, a wanted outlaw.
As he begins to piece together his life and identity, some aliens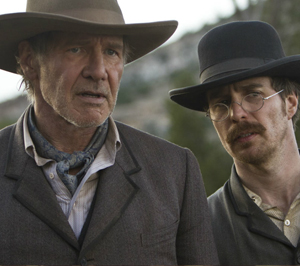 come and start to stir things up. One thing leads to another and Jake and the townsfolk (which includes an ensemble cast of Sam Rockwell, Olivia Wilde, Keith Carradine, and Clancy Brown) band together to fight the aliens. Yeehaw!
Director Jon Favreau's (Iron Man, Iron Man 2) attempt at producing a film with classic western imagery is a disservice to westerns. Every framed shot of the silhouette of people on horseback riding into the sunset, every type-casted character and every quick draw of a gun are forced in this poorly made film.
Perhaps the apex of the unintentional absurdity (yes, even for a film titled Cowboys & Aliens) comes at a moment when the characters learn that the aliens have come to our planet for–you guessed it–gold, and Harrison Ford's character announces emphatically, "Gold?! What, are they going to buy things?"
Unfortunately, the real gold-digging aliens of this film are the filmmakers who made Cowboys & Aliens. For our sake, let's hope they're spending all that "gold" on producing better screenplays.
Cowboys & Aliens Opens today July 29, 2011. For tickets and showtimes, click here.
Tags:
Cowboys & Aliens
,
Daniel Craig
,
Harrison Ford