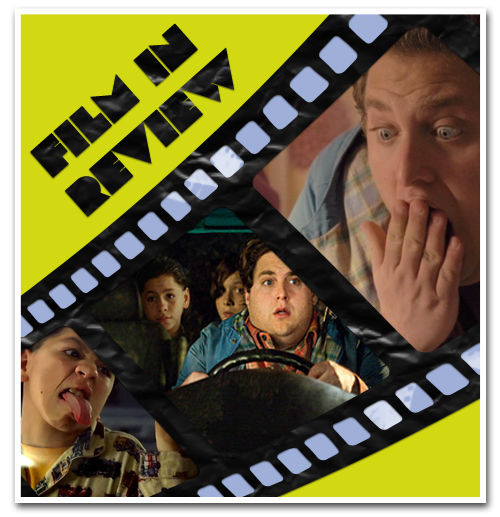 Through the wistful evolution of Judd Apatow's re-branding of mainstream comedies, we've come to expect a certain level of verisimilitude from our dopey slacker comedies these days.
From the raunchy yet sincere The 40-Year Old Virgin to the angst-ladden and all-too-familiar hijinks of Superbad, the man has helped redefine the genre and introduced the world to a new crop of talented comedic kingpins.
Though Judd Apatow had no hand in the writing or producing of The Sitter, it no doubt spouts his brand of comedy, namely through his role in manufacturing the onscreen persona of star Jonah Hill.
| | |
| --- | --- |
| | |
| Landry Bender, Kevin  Hernandez, Max Record and Jonah Hill in The Sitter. | |
In The Sitter, Hill stars as Noah, a smooth-talking, foul-mouthed slacker (really stepping out of his comfort zone with this one) who sacrifices a night partying with his selfish, abusive girlfriend to babysit three kids so his single mom can have a night out on the town.
The film finds Hill teaming up with director (and also frequent Apatow collaborator) David Gordon Green (Pineapple Express, Your Highness) in what's essentially a crude, raunchy, but ultimately disappointing update of the 80's teen classic Adventures in Babysitting.
After the gut-bustingly funny opening scene in which Noah establishes his talent as a cunnilingual cunning linguist, the film falters for 81 painstakingly uncomfortable minutes to find its comedic footing.
Noah is roped into babysitting the three Pedulla children: Slater (Max Records), the high-strung, heavily medicated 13-year old; his toddler-in-tiara, Kardashian-wannabe little sister, Blithe (Landry Bender); and Rodrigo (Kevin Hernandez), their sociopathic pyromaniac adopted Columbian brother.
"I'm not a real babysitter" Noah says maniacally to Blithe, and that statement rings pretty true shortly thereafter as he drags the kids along to go great lengths to score drugs for his girlfriend. Leading them through dangerous situation after dangerous situation, including run-ins with cheerfully gay, yet dangerous drug dealers (played amusingly by Sam Rockwell and J.B. Smooth), ghetto gangbangers (also amusing performance from Method Man), and police, Noah really does take the gold medal for most irresponsibly destructive babysitter ever conceived. Problem is, it's the over-the-top sensationalism that makes The Sitter another overwrought, mostly unfunny, forgettable slacker comedy.
| | |
| --- | --- |
| | |
| Jonah Hill and Kevin Hernandez in The Sitter. | |
Whereas the bad-to-worse situational comedy of films like Pineapple Express and Superbad succeeds in its timely pacing of plausible situations vehemently spinning out of control, The Sitter fails through the immediate implausibility of Noah's actions. Within the first ten minutes of babysitting, Noah, against his employer's specific instruction, steals the family minivan and takes the kids with him on a drug run for his whiny not-quite-girlfriend. It's an action that's so unbelievable by any standards, it immediately suspends any disbelief we're supposed to have about the quickly spiraling-out-of-control sequence of events that follows.
What's more unappealing with this film is the lazy, and somewhat offensive, attempt to deconstruct social values and stereotypes. Rodrigo, obsessed with fireworks and destroying most things, is treated more like the family pet than a adopted child. Slater, who's crippling anxiety and self-deprecation blatantly masks his underlying homosexuality, is outed by Noah in what could be the most offensively stereotyped fashion I've seen on screen. Nearly every major and minor character in The Sitter seems to be some sort of ill-conceived stereotyped caricature. But even that wouldn't be such a huge problem if the film played into those stereotypes to make some sort of comedic catharsis. Instead, it uses them for cheap laughs and to hurry the episodic narrative along.
Ultimately, the pickle that Noah finds himself in becomes less funny and more annoying.
Apart from a few big laughs early on, The Sitter delivers little more than David Gordon Green's less-than-stellar previous effort Your Highness. Coming from the director that gave us the new cult comedy classic Pineapple Express, that's a little disappointing, but considering that it's also from the director who showed such auteuristic promise from beloved, Malick-esque indie hits like George Washington and All the Real Girls, it's more than a little disappointing, it's disheartening.
Overall Grade: C+
 The Sitter opens today in theaters everywhere, click here  for theaters and showtimes.
---

Matt is currently obsessed with Rap Snacks, post-hardcore, pizza parties, and Carl Sagan's Cosmos.
All author posts