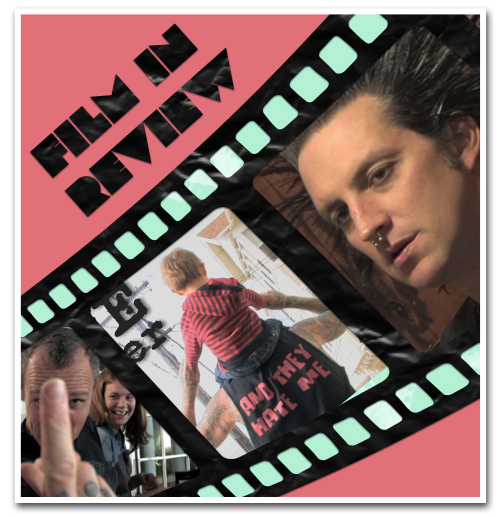 When famed children's novelist J.M. Barrie introduced the pious and idealistic character of Peter Pan to children in the early 20th century, it presented a simple and innocuous nihilistic fantasy in which kids would never grow up and succumb to hegemonic societal norms.
In the early 1980's, nearly 80 years after Peter Pan first introduced children to the adult-less, rule-less magical realm of Neverland, the youth of the nation began to heed Barrie's seemingly innocent ideology, only with a much more violent, anarchic, and no-holds-barred sensibility.
It was called Punk, and despite popular opinion, it never died. It just grew up and had kids.
Andrea Blaugrund Nevins' documentary The Other F Word examines the supposed contradiction of punk rock fatherhood.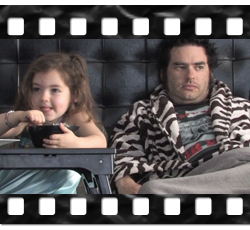 Through a vast collection of talking head interviews with a 'who's who' crop of punk rock icons, Nevins' goal, ostensibly, is to shed a light on a culture that she believes most people see as misunderstood and misconstrued beatniks deemed unfit for parenthood in any sense of the word.
But what's flawed with this idea is that the novelty of aging punk icons as fathers is that it's not really a novelty at all. It's life.
Though it's fairly obvious by now that the violent, anarchic reputation of many of the film's subjects were merely a manifestation of an alternative youth culture, frustrated and fed-up with their own societal upbringings, Nevins approaches her subject matter with the notion that most people still view punk rockers as they were in the 80's.
While nearly half of the film intercuts archived photos and videos of the scene in its heyday with now-grown icons like Lars Frederikson (Rancid), Mark Hoppus (Blink-182), Fat Mike (NOFX), and Ron Reyes (Black Flag) reflecting on the scene, it seems to suggest that the parenthood angle was merely put in as an afterthought, so as to try and distinguish The Other F Word from other recent punk documentaries like American Hardcore and Punk's Not Dead.
While it's fun to hear these somewhat over-the-hill rockers reflecting on their youth and all the "stupid shit they got into," the film's most touching and inspired moments come when certain subjects choking up over discussing what they gave up and the lengths they're willing to go for their kin.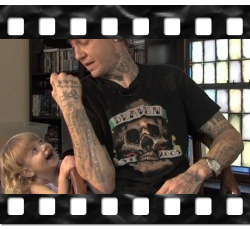 In one especially moving scene, Red Hot Chili Pepper's bassist Flea tears up as he explains how, when his first daughter was born, he declared right then and there that he'd never abuse drugs or alcohol again. It's a very moving scene, and one of a few that suggests Nevins had some sort of mastery of what she wanted to accomplish, but ultimately lost sight of along the way.
Brimming with all-star punk icon interviews and a rather anticlimactic, stringy narrative focusing on Pennywise lead singer Jim Lindberg and his family, The Other F Word offers little more than another punk rock scrapbook revisiting the glory days of the scene.
Sure, the novelty of these knights of nihilism bogged down with the mundane responsibilities of parenthood seems like it would provide hours of fish-out-of-water entertainment, but the truth is once that novelty wears thin (after about the first 10 minutes), this film is merely a rather mundane depiction of working-class stiffs (at least in their minds) doing what they can to provide for their families.
Like Barrie's penultimate moral in Peter Pan that, no matter how hard we fight it, we all have to grow up sometime (but we can still hold on to some sort of our childhood innocence), the punk dad's in The Other F Word struggle to maintain their punk sensibility while also doing their best to be good parents and role models.
The result is somewhat touching, but mostly a bore, proving that The Other F Word's other F word really stands for faltering.
Overall Grade: C+
The Other F Word opens today in select theaters, click here for theaters and showtimes.
Tags:
Andrea Blaugrund Nevins
,
Fat Mike
,
Flea
,
Jim Lindberg
,
Lars Frederikson
,
Mark Hoppus
,
Ron Reyes
,
The Other F Word