In the quiet, beautiful British indie drama Weekend, two gay men casually meet at a night club and wind up hooking up in what would otherwise be a nonchalant, typical one night stand.
Though, as director Andrew Haigh's film explores, the emotional and sensual connection shared between the film's lead characters, Russell (Tom Cullen) and Glen (Chris New) during their night of drunken, sexual debauchery resonates far greater than what either of them could have expected.
With Weekend, Haigh creates an authentic, contemporary love story that combines a minimal, vérité-style filmmaking approach with an astoundingly smart and revelatory screenplay that poignantly captures the essence and unpredictability of falling in love.
The film opens as Russell wistfully pulls himself together and heads to a party with some of his straight friends.
At the party he seems cold and distant, he goes through the motions of having a good time, and when his best mate Jamie asks him if everything is O.K., he unconvincingly assures him that it is. Later that night, Russell heads to a local gay club, where he ends up picking up Glen.
After a drunken night of sex, followed by the inevitably awkward morning after, they exchange numbers and Glen leaves, both of them faintly acknowledging the rules of the one night stand; reluctant that they'd get together again.
However, while Russell's at work, Glen texts him and asks if he wants to meet up again later.
What began as an innocent, drunken hookup, turns into a long weekend filled with philosophical discussions, drugs, sex, and an unprecedented human connection that neither of them could have ever anticipated.
Evoking the tone of the early films of French New Wavers EricRohmer and Jean–Luc Godard, and in the vein of such classic, nuanced romances like Before Sunrise and Before Sunset, Haigh demonstrates his natural talent for capturing raw human emotion at its most vulnerable.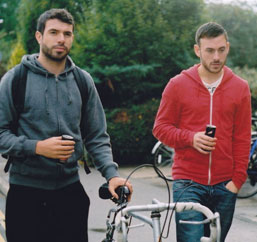 His stylistic approach in Weekend is reminiscent of the mumblecore film movement as he employs handheld camera techniques and an authentic cinema vérité approach. Yet, like many of the films Weekend is derivative of, this approach only works because of Haigh's sharp and natural script carried out beautifully by the film's two leads, Tom Cullen and Chris New.
Both Cullen and New are so natural and comfortable in each of their respective roles. It felt less like I was watching a film on screen and more like I was watching a real, fragile romance evolve, that just so happened to be captured on film.
Cullen perfectly fits into his character as a somewhat closed, reserved man, who, at times, doesn't seem quite too comfortable with his sexuality. Playing quite the emotionally untethered adversary to Russell, New masterfully captures the essence of his character — confident, unhinged, and seemingly in control, yet clearly putting on a front to hide his true vulnerability.
The chemistry and passion shared between the two actors onscreen seems authentic and sincere, which, for a film of this nature, couldn't have worked any other way.
To canonize Weekend within the genre of "queer" or "gay" cinema is unfair, because, while it certainly holds a place high within the canon of that genre, it deserves to be seen and appreciated on a much wider level. Sure, its graphic sexuality simply won't sit well with mainstream audiences, but the matter of fact is that Weekend is both a beautifully shot and acted romance and a subtle, yet incredibly conscious socially progressive film that speaks volumes for our society.
Overall Grade: A-
Weekend opens today in select theaters and is currently available on Video on Demand, click here for theaters and showtimes.
---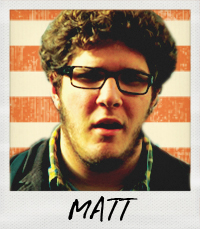 Matt is currently obsessed with Rap Snacks, post-hardcore, pizza parties, and Carl Sagan's Cosmos.
All author posts