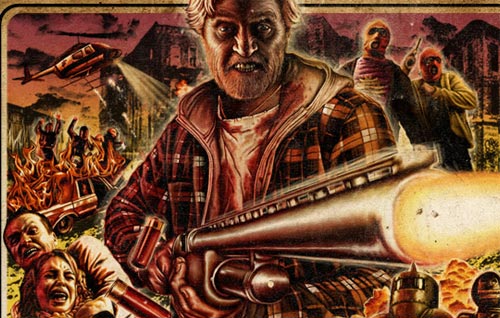 When you decide to title your film "Hobo With A Shotgun", you are instantly setting yourself up to a high degree of expectations, an almost unprecedented degree.
Fortunately, director Jason Eisener manages to reach that degree and surpass it with flying colors; blood-soaked, shotgun-touting, chaotic, flying colors.
Based on the contest-winning fake trailer for the Quentin Tarantino/Robert Rodriguez helmed exploitation epic Grindhouse, Hobo With A Shotgun is the story of an nameless hobo who rides a boxcar into the violent, anarchic, pseudo-dystopic town, ironically called "Hope Town", just one of many examples of the brilliantly crafted socio-political undertones the film has to offer.
Photo courtesy of Magnet Releasing.
Photo credit: Karim Hussain
As the hobo gets off the train and wanders the streets, he sees prostitutes, bum fights, drug users and a whole mess of other sketchy characters populating the streets. As the scene unfolds, he watches as a man is chased through the streets by Drake, the local kingpin who runs the town, and his two murderous, sadomasochistic sons Slick and Ivan. The hunted man turns out to be Drake's brother, who he then brutally slaughters in front of a mass public crowd in such a way that effectively establishes the kind of untamed anarchy the villains of the film represent, as well as the creatively gruesome, hyper-violent tone of the film.
At the center of the film is Rutger Hauer's titular character, a homeless drifter, who upon entering the world of "Hope Town" (aptly scribbled as "Scum Town" at the beginning of the film), becomes instantly disgusted with the state of affairs and sheer apathy of the town's residence.
After preventing the rape of a gold-hearted hooker (Molly Dunsworth), the two pair up to clean up the streets and take on Drake and his cronies with nothing but a saw-off shotgun and an iron set of male genitalia (figuratively).
Ultimately, the film plays out like a La Femme Nikita-by-way-of-Roger Corman tale as the unlikely duo forms a strong bond while fighting to save the town from the savage grip of Drake's reign of terror.
Photo courtesy of Magnet Releasing.
Photo credit: Karim Hussain
Worth noting is Rutger Hauer's performance, with his grisly, subtly haunting portrayal as the not-quite-batshit-crazy, but teetering on the edge homeless hero, further cements his status as a cult icon.
Without giving too much away, I will say that Hobo With A Shotgun is a gratifyingly creative splatter-fest far beyond much of the "torture porn" produced today.
An original hyper-stylized surreal homage to 70's exploitation films, it's sure to please genre fans and newcomers alike. With visceral visuals, clever socio-political undertones, and endlessly satisfying characters, Jason Eisener has created a sure-fire cult classic with Hobo With A Shotgun.
Tags:
Hobo With A Shotgun
,
Jason Eisener
,
Magnet Releasing
,
Molly Dunsworth
,
Quentin Tarantino
,
Rutger Hauer