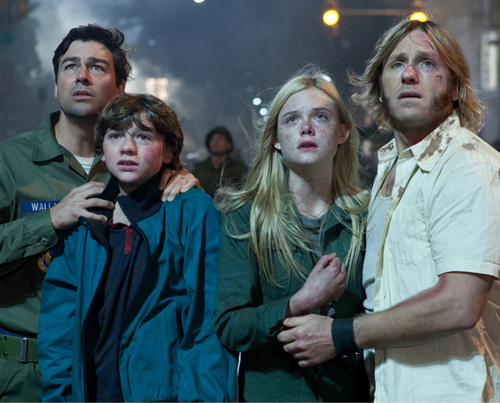 There's a certain formula to creating the perfect summer blockbuster. It takes a particular blend of action, suspense, and comedy to capture that robust quality that makes a truly classic summer blockbuster. With Super 8, director J.J. Abrams' attempts to breakdown that formula, going back to the basics, and even enlisting the help of producer Steven Spielberg– the King of the Summer Blockbuster- to refract and reinvent classic elements to create his own Spielbergian kid-centric sci-fi epic for a new generation.
Wearing his influences boldly on his sleeve, what Abrams' comes up with is a nostalgic and wholly original summer blockbuster, that while far from the perfection of it's influential predecessors (E.T., The Goonies, Close Encounters of the Third Kind to point out the obvious), is still an effective and most importantly, a genuinely fun film.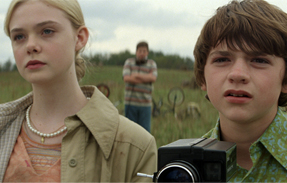 Set in the fictitious rustbelt town of Lillian, Ohio in 1979, the film centers around young teen Joe (Joel Courtney), who, while coping with the tragic and untimely death of his mother, is recruited by his circle of friends to make a zombie film on a Super 8 camera, to submit to the local Super 8 film festival. One night, the young filmmakers sneak out in the middle of the night to an abandon train station on the outskirts of town to film a pivotal scene. As the cameras roll, a pickup truck comes barreling down a dusty back road on to the tracks, right as a train passes the station, precipitating a massive wreck of exploding box cars in what is arguably the film's best shot action sequence.
As the kids scramble for their lives, dodging renegade scrap metal and endless fireballs, Joe barely witnesses something escaping a boxcar right before the kids regroup and haul out of the crime scene as authorities arrive. Soon after, the small town begins experiencing weird happenings- missing pets, stolen appliances, weird noises. Joe's father, Deputy Jackson Lamb (Kyle Chandler) begins to suspect the cargo of the train wreck was carrying something far more sinister then originally conceived as the increased military presence sends the town on edge.
In an undeniable Goonies-esque manner, Joe and his friends decide to take matters into their own hands as the increased military presence and strange happenings delay the production of their film. The kids soon uncover a covert military cover-up involving a dangerous extra-terrestrial creature and fight to save their town and one of their own.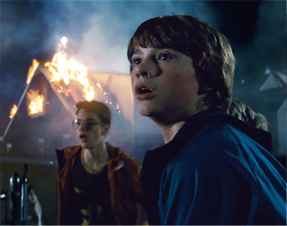 With Super 8, Abrams demonstrates an uncanny amount of care and tenderness in his work.
Perhaps a little too much, because at times, the film feels as if it's trying to do too much at once.
The results can be a little overwhelming.
Undoubtedly, Abrams is trying to infuse clear-cut Spielberg-ian dramatic influences with his own over-the-top-action sensibility (see Cloverfield's nearly-indecipherable action sequences for example), and while you have to admire and give him credit for the idea and execution, the results, most of the time, just seems like an unfocused, meddled mess.
There's a science fiction story, a military cover-up story, a story of young, blooming love, a tale of young friends overcoming the hardships of teen angst, and a story of a father and son coming to grips with the death of their wife/mother and learning to move on….all at once.
With all these simultaneous subplots, the story begins to lose meaning and it becomes increasingly difficult to connect with the characters. Had Abrams took the time to simplify the story, I have no doubt that would have created a true summer classic on the ranks of the film's overtly-influenced predecessors.
Worth taking note is the superb acting by the amateur ensemble cast. Perhaps the best thing Abrams has going for Super 8 is his explicit choice to not cast any big name actors, particularly with the adolescent leads.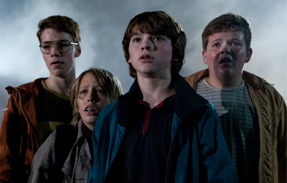 With minor names like Kyle Chandler and Elle Fanning as the most recognizable stars, the film's relatively unknown cast not only adds a deep sense of authenticity to the characters, but opens up the forum for some very talented new, young actors.
The young leads contribute to Super 8's success as a light-hearted and effective comedy, and I tip my hat to them and Mr. Abrams for his decision in casting the promising actors.
Overall, with all the adaptations, sequels, prequels, reboots, and recycled drab that moviegoers are subjected to each summer, Super 8 is a refreshing take on an otherwise tried genre.
While not a perfect movie, and far from it, it features all of the elements of a successful summer blockbuster- top notch action, stellar special effects, gripping suspense, and blithe comedy, and of course aliens, children….and aliens interacting with children.
Although it does not hold a candle to its unambiguous cinematic influences, it's still an extremely entertaining film, and after all, isn't that what the essence of summer blockbusters are about?
Tags:
Elle Fanning
,
Film In Review
,
J.J. Abram
,
Joel Courtney
,
Kyle Chandler
,
Steven Spielberg
,
Super 8