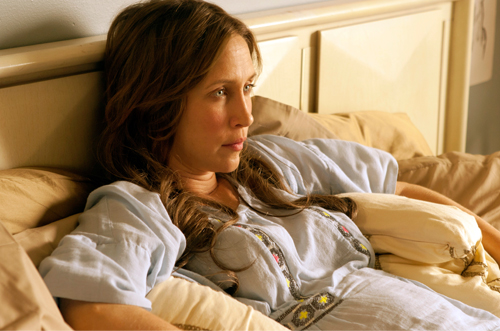 The subject of religion and one woman's unbalanced relationship with her own faith is the thesis for Higher Ground, the directorial debut of celebrated actress Vera Farmiga (The Departed, Up in The Air, Source Code).
It's a delicate and tender 70's period piece that follows Farmiga's character, Corrine through her budding high school days as a young writer who is enamored by a hunky musician. The film shows their marriage, her religious awakening, and her days wistfully spent questioning her life choices and more importantly, her faith.
The first act of the film follows young Corrine (played by Taissa Farmiga, Vera's younger sister), as an artistic and intelligent high school outsider, spending most her days writing poetry and dreaming of becoming a famous writer. She then meets Ethan, the cool, charismatic, guitar-wielding prodigy things. The two fall in love, get married, and have kids almost immediately out of high school.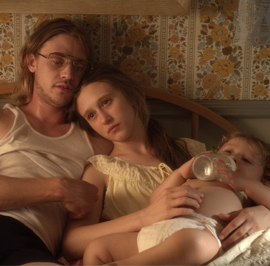 Corrine struggles to raise their baby while Ethan struggles to become a rock star. He often brings his family with him on the road, subjecting them to the rock 'n roll lifestyle. One night, while the family and Ethan's band trek to the next gig in the touring van, an accident occurs and they nearly lose their baby. They take this slight as a miracle, and a catalyst for their religious awakening, and suddenly they find themselves at the center of a tight-knit conservative Christian community.
Combining humor, compassion, raw emotion, and a distinctly objective perspective on the subject of deeply-religious Christians, Farmiga uses Corrine to explore the parameters of faith. In the beginning Corinne embraces her faith with out much struggle. She adheres to the preachings and inherent patriarchy of her local Christian community without much objection or skepticism because it's all she knows. Through one single traumatic experience, she immediately acknowledges the divine will of God and leaves no room for her own self-discovery.
We see how her sudden embrace of faith transforms Corrine from a free-thinking spirit to one who accepts what she's told due to her religious guilt. However, it isn't until she befriends Annika (Dagmara Dominczyk), another wife in her religious community, and another tragedy emerges that Corrine begins to question her faith, relationship, and role within her community.
Though the film is slow at times in developing Corrine's internal conflict, it provides us with enough humor and drama to be entertaining to watch. Additionally, Farmiga, whose directing skills highlight a keen sense of authenticity with the '70's, as well as a skillfull hand at capturing emotional drama between characters, saves the film from faltering.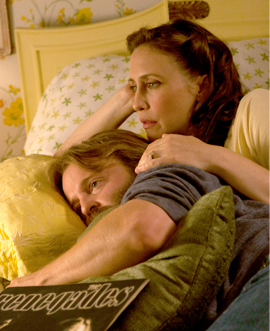 In the last act, Farmiga tacks on one too many instances of religious symbolism that compromises the inquisitive, objective approach to its handling of Christianity.
However, it isn't enough to fully ruin the sensibility Farmiga is going for. Where Higher Ground falters is in its inability to be bold and daring in the predictable and drawn-out development of its hinged narrative.
While the film is an impressive debut from a celebrated actress, featuring a stellar cast with the likes of John Hawkes, Joshua Leonard, Dagmara Dominczyk, and Donna Murphy, it isn't necessarily as great of a film as it could have been.
Overall Grade: B
Higher Ground opens today in select theaters, click here  for theaters and showtimes.
---

Matt is currently obsessed with Rap Snacks, post-hardcore, pizza parties, and Carl Sagan's Cosmos.
All author posts