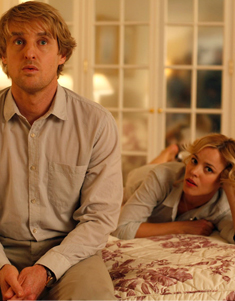 It's no question that Woody Allen is one of the most ambitious filmmakers of our generation. At 75, the man has directed almost 50 films, has been nominated for 21 Academy Awards, and won 3.
With such classics as Annie Hall and Manhattan under his belt, Allen is responsible for some of the most iconic and universally-revered pictures of all time. With a pertinently intellectual sensibility and keen blend of classic slapstick humor and powerfully existential and realistically human themes, his work is one of the most distinctively recognizable body of films of any filmmaker.
Simply put, Woody Allen's canon of work has an unmistakable "you know it when you see it" quality to it.
Having said that, when you have an output of roughly a film a year for over 45 years, there's no denying that not all of them will be winners.
You can only make so many romantic comedies that feature 20 minutes worth of static shots of famous New York City architecture before audiences will want to stand up and scream, "We get it! You're in love with the city! Move on, dammit!"
With many of his recent films departing from his classic 'Woody Allen's New York' setting (Vicky Cristina Barcelona, You Will Meet a Tall, Dark Stranger to name a few), critics have been lukewarm to his work in the past few years.
Fortunately, with his latest feature Midnight in Paris, Mr. Allen maintains his classic demeanor while demonstrating that he still has some new and innovative tricks up his sleeves in his elder years.
The film stars Owen Wilson as Gil Pender, a 'Woody Allen-esque' Hollywood screenwriter on vacation in Paris with his fiancée, Inez (Rachel McAdams) and her highbrow parents (Kurt Fuller and Mimi Kennedy). When he's not schmoozing and boozing with his fiancée's family and their insufferably pretentious friends (Michael Sheen and Nina Arianda) that they happened to run into in the streets, Gil is hard at work on his debut novel- an attempt to prove to his friends and himself that he has a lot more to offer then the trite Hollywood drab that he's known for writing.
One night, Gil opts out of a night of dancing and drinking with Inez and their friends, and instead goes on a late night stroll to clear his mind. Disoriented, lost, and a little drunk, Gil finds himself at the corner of a quaint Paris back road at the stroke of midnight. As he reluctantly struggles to find his bearings, an old 1920's car rolls down the road and the occupants convince him to join them to a party.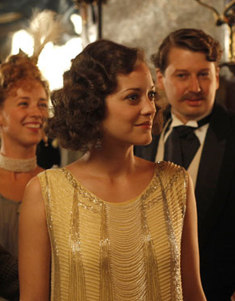 Soon thereafter, Gil finds himself transported back to the iconic 20's and in the company of such greats as Scott and Zelda Fitzgerald (Tom Hiddleston and Alison Pill), Ernest Hemingway (Corey Stoll), Gertrude Stein (Kathy Bates), Salvador Dali (Adrien Brody), Pablo Picasso (Marcial Di Fonzo Bo), and other artistic and literary elites of that generation. Bewildered and amazed, Gil hits it off with his new friends and continues to blow off his fiancée to come back each night and socialize with his literary heroes.
Midnight in Paris has all the elements of a classic Woody Allen film working for it: witty, light-hearted humor, classic literary and artistic references, relationship perils, and an explicit stab at the snotty, pseudo-intellectual elitists that only seem to exist in Woody Allen films. Owen Wilson does a great job filling the latest role of the actor-playing Woody Allen-playing a character (see Larry David in Whatever Works, and pretty much every lead in a Woody Allen romantic comedy that isn't Woody Allen for further examples), but the film's strongest performances are definitely credited to the actors playing the film's literary greats. Playing off the caricature of these legends, some of the film's funniest moments come from the interactions between Wilson's character and Hemingway, the Fitzgerald's and the others.
Of course, Allen's trademark city-capturing technique is heavily featured as he uses many static shots and montages of famous Paris landmarks and sites to capture the spirit and essence of the great city. While not nearly as successful at defining the city of Paris as he has previously done time and time again with New York, Allen certainly manages to capture some of the essence and charm that makes the city so admired.
When compared to the rest of Allen's mega-palette, Midnight in Paris is certainly not among his best work, but it does hold its own compared to many of the standard films from his heyday. It's not a perfect film by any means, but it is a funny and whimsical delight that has the look and feel of a classic Woody Allen flick.
---

Matt is currently obsessed with Rap Snacks, post-hardcore, pizza parties, and Carl Sagan's Cosmos.
All author posts