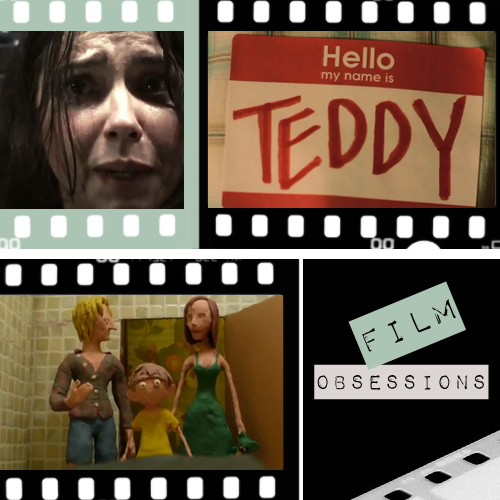 So, in case you haven't figured it out by now, I'm a big fan of genre films. Particularly horror/sci-fi/cult/exploitation films. Thus I was pretty damn excited to hear about the latest project by DrafthouseFilms, The ABC's of Death. The project is essentially an amped-up, genre-fied take on the whole 'collaborative thematic shorts compilation' popularized by films like Paris Je T'aime and New York, I Love You.
Yes, in fact it's exactly like that, minus all the whimsical, quirky romanticism and a lot more gore and death.
Anyways, the project is actually quite spectacular: 26 short films about death by 25 acclaimed indie-horror directors. Each film has to be a different letter of the alphabet. To make things even more interesting, Drafthouse Films decided to hold a contest for amateur filmmakers to submit their films for the letter "T" for the coveted 26th director spot.
As the guidelines state, they are looking for films that carry that "Holy shit!" factor to join the ranks among the other 25 filmmakers. Filmmakers have until October 1st to submit their entries and the top 10 will be decided on October 31st, before another round of public voting begins.
So, for this edition of Film Obsessions, I decided to watch all the films that have been uploaded thus far and picked my three favorite to share. It's still early in the contest so, chances are I'll probably revisit this again come October, but for now, I present three fine examples of creative and innovative short films that exemplify genre filmmaking.
New films are being uploaded everyday and you can view them and vote for your favorites here.
T is for Toilet

Simply put, I hope this film wins (at least based on the submissions thus far). Lee Hardcastle's brilliant and surreal short features some amazingly gruesome and innovative claymation that covers one of the most basic of childhood fears: that ever-looming and ominous toilet.
I mean come on, let's face it, most of us had that fear that toilets are really monsters that eat children when we were growing up, right?
Directed by: Lee Hardcastle
Run Time: 4 minutes & 16 seconds

T is for Teddy

Breakups suck. Especially if your ex is a total asshole. Thus goes the premise of Thom Newell's entry T is for Teddy. In it, a man comes over to collect the rest of his stuff from his ex-girlfriend's house. Right off the bat he comes off as a huge dick, and treats his ex like shit.
So, as the rules of horror go, if you're a dick, you're probably going to meet an untimely demise. But it's not always from the person you expect.
Directed by: Thom Newell
Run Time: 4 minutes & 22 seconds

T is for Talk

Here's a little short that gives the producers of the Saw franchise a run for their money. In Peter Haynes' brutal film, a bunch of strangers are held captive in some sort of boiler room, and the only clue as to their captor is a digital sign that commands them to talk at certain times or meet an unwarranted and gruesome doom.
Hailing all the way from New Zealand, this short features quality production value, story, and acting. I wouldn't be surprised to see this make it far in the competition.
Directed by: Peter Haynes
Run Time: 4 minutes & 38 seconds
---

Matt is currently obsessed with Rap Snacks, post-hardcore, pizza parties, and Carl Sagan's Cosmos.
All author posts