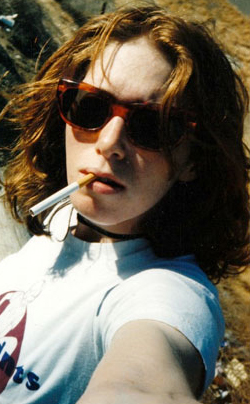 North American film distribution company, Well Go USA, in conjuncture with Variance Films has just acquired the rights to "Hit So Hard", a rockumentary about the ex-drummer of Courtney Love, Patty Schemel.
Directed by P. David Ebersole and produced by Todd Hughes and Christina Soletti, the film documents the career and tumultuous personal life of the openly lesbian artist as she was flung into the public eye with the success of the early 90's rock band Hole.
"Hit so Hard" will feature highly personal footage of Schemel's life, including footage of her time with Love and late husband (Nirvana front man) Kurt Cobain as well as her long struggle with substance abuse.
Variance will release the film in early 2012, but "Hit so Hard" has already been received warmly at its premiere screening at Outfest 2011: The Los Angeles Gay and Lesbian Film Festival.
---

Saron is a writer and student born in Ethiopia and raised in Washington, DC. She is incapable of keeping a phone for longer than a few months, exclusively wears Miss. Dior Cherie, and her guilty pleasures include any novel written by V.C. Andrews (don't judge), Essie's "Little Brown Dress", and Stoli. She is currently obsessed with the poetry of Edmund Wilson and The Arctic Monkey's latest album "AM".
All author posts