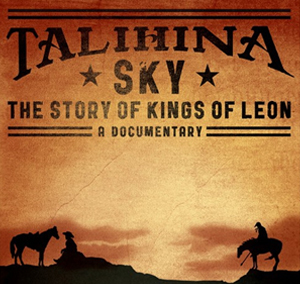 Longtime rockers, Kings of Leon, will be premiering their documentary Talihina Sky: The Story of Kings of Leon this Sunday on Showtime.
The Followill family makes up the band and is comprised of brothers, Caleb (lead vocals) Nathan (drums), and Jared (bass guitar) and their cousin Matthew (lead guitar).
The film, directed by longtime friend, Stephen Mitchell, earns its title from Talihina, Oklahoma, the location where the Followill clan hosts their annual weeklong family reunion.
"This is the first year we have to miss it," Nathan Followill tells Rolling Stone magazine. Although rigorous summer tour commitments will keep the boys from their family, fans can watch the small screen documentary to get a feel for what it is like to be a Followill.
"Talihina Sky" will offer an authentic look into the lives of the famous family and includes behind-the-scenes footage and family videos to show the origins of how this "band of brothers" came to be.
Talihina Sky premieres Sunday, August 21 at 10 p.m. EST on Showtime
Tags:
Kings of Leon
,
Talihina Sky: The Story of Kings of Leon