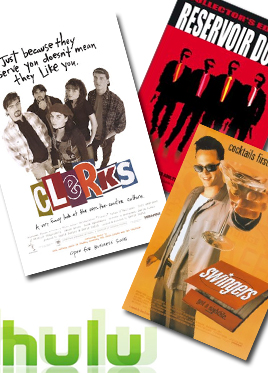 Movie buffs rejoice!
Miramax has forged an agreement with Hulu to offer streaming movies.
With just a $7.99 a month Hulu Plus subscription, you can readily access twenty-seven Miramax films (and hundreds more in the next few weeks) that are now included for your immediate viewing pleasure.
This means, at this moment, you could be watching Clerks on your computer screen, and tweeting how incredible Clerks is at the same time!
Some other Miramax films already set to stream on Hulu include Cop Land, From Dusk Till Dawn, My Left Foot, The Crow, The Crying Game, Reservoir Dogs, Scream, Swingers, and Trainspotting.
Andy Forssell, Hulu's Senior Vice President of Content and Distribution, is definitely excited for the agreement, and said, "At Hulu, we spend a lot of time thinking about innovation and how to foster it. Apart from how much I love these movies themselves, that is another reason I have so much respect for Miramax. They innovated, and they were absolutely relentless about it for more than 30 years."
And for those of you who are really scrimping this summer by watching Hulu freebies, there's a reason for you to be excited, too.
Hulu, starting in mid-June, will offer, for free each month, a selection of Miramax films on the ad-supported Hulu service.
Now the only question is, what other movie catalogues will start showing up on Hulu?