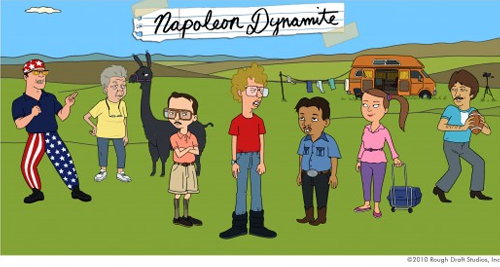 Gosh! Are you one of the legions of fans still clamoring for a Napoleon Dynamite sequel/prequel/McDonald's line of promotional cups after all of these years?  Well, full-disclosure (I'm contractually obligated to use the phrase "full-disclosure" in 1/5th of my articles – as are all members of the Press), neither am I.
So, you can imagine my shock (or apathy, ascribe to me what emotions you will) when I heard the news that Fox is launching a Napoleon Dynamite animated series in the Fall, like a crazed-ouroboros/phoenix hybrid, rising from the ashes to swallow its tail in perpetuity.  I know, right!?
After the Fox, Paramount, and MTV-produced Napoleon Dynamite, a remake of Jared Hess' short film Peluca burst onto the scene in 2004, and launched the careers of lead actor Jon Heder, co-star Efran Ramirez, and writer/director Jared Hess, all three would go on to find a decent amount of success in Hollywood, with Heder co-starring in School For Scoundrels with Billy Bob Thornton (say it: thorn-ton – it's surprisingly hard, right?), and in Blades of Glory alongside Will Ferrell.  Ramirez acted in both Crank films as well as the second season of Eastbound & Down along with Danny McBride as Kenny Fuckin' Powers, and Hess wrote and directed Nacho Libre and Gentlemen Broncos.

So, if you've been dying to hear about Kip's latest cage-fighting exploits, Uncle Rico throwing footballs over mountains or Rex's ongoing and torrid love-affair with the lovely Starla, and you want that ring of sonorous authenticity to go along with it, you're in luck, because the whole cast is returning, thank… uh I think the Norse gods called in a favor on that one, I don't know.  I haven't seen Thor yet, so maybe I'm just not qualified to speak on Norse mythology.  It's a character flaw of mine, and I'm working on it!
I just have one qualm about this whole endeavor (aside from the existential one), if they've got the whole cast, why not just make this bitch live action?  I mean the trailer makes it look like an Idaho version of King of the Hill, which I mean, I liked, but…
Okay, the thing is, part of the appeal of the movie is the physical awkwardness of the characters.  I think in a cartoon, you lose that.  It doesn't have the same effect as the physical comedy of goofy Napoleon wielding a bow staff, or breaking out flawless dance moves to Jamiroquai.
What do you think about Fox's plans for a Napoleon Dynamite cartoon?  Let me know below, and I will personally see to it that Rupert Murdoch does not give a shit about any of our opinions, so make yourself a dang quesadilla, and talk to me, people!
Tags:
Efran Ramirez
,
Fox
,
Jared Hess
,
Jon Heder
,
Napoleon Dynamite