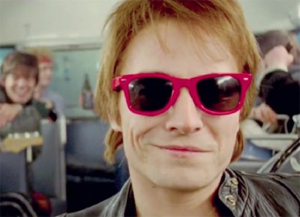 The classic tale of the underdog told with a charming twist, Nick Hamm's Killing Bono shows us just what it's like to be one of the many who never fulfill their rock n' roll dreams.
Told from the point of view Ivan and Nick McCormick, played by the extremely talented and always hilarious Robert Sheehan and Ben Barnes, "Killing Bono" takes us through the journey that forces the brothers hopes of rockstardom to fall to the wayside.
The duos rock star ambitions lead them to start a band – the second most popular in Dublin. Their rivals, a band called Hype, continue to grow in notoriety and eventually they decide to change their name to U2… you can figure what happens next.
A winning combination of cheek and charm, "Killing Bono" is a fantastic portrait of the reality behind making it – or rather not making – in the music industry.
Killing Bono is expected to arrive on VOD in October and in theaters this November.
In the meantime, check out the trailer below.