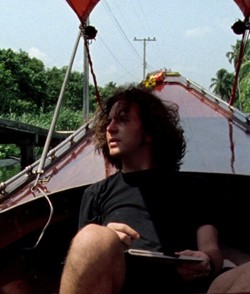 Almost Famous Academy Award winning director Cameron Crowe directs the latest rockumentary featuring 90's grunge band Pearl Jam.
The film, appropriately titled PJ20, is a celebration of the band's 20th anniversary of their debut album "10".
PJ20, which will release this fall,  chronicles the years leading up to the band's formation and is described as "part concert film, part intimate insider-hang, part testimonial to the power of music and uncompromising artists."
The recently released trailer, which begins with David Lynch interviewing Eddie Vedder,  offers a peek into the unseen footage, interviews with the band mates, and the truth about how boys have managed to continue as a solid unit through the unforeseen hardships of their rise to celebrity.
Pearl Jam Twenty from Pearl Jam on Vimeo.
---

Saron is a writer and student born in Ethiopia and raised in Washington, DC. She is incapable of keeping a phone for longer than a few months, exclusively wears Miss. Dior Cherie, and her guilty pleasures include any novel written by V.C. Andrews (don't judge), Essie's "Little Brown Dress", and Stoli. She is currently obsessed with the poetry of Edmund Wilson and The Arctic Monkey's latest album "AM".
All author posts